Anuj Bidve Dead: Police Issue £50,000 Reward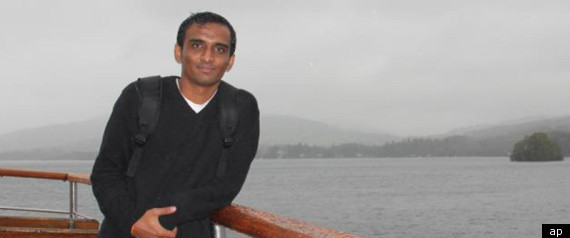 Police investigating the "horrific" Boxing Day murder of an Indian student have offered a £50,000 reward and apologised to the victim's family after it emerged his father learned of the shooting from Facebook.
The cash for information leading to the arrest and conviction of the killer of Anuj Bidve was offered in the hope that murder squad detectives will be given vital clues.
The 23-year-old was shot in the head at point-blank range as he walked with friends near their hotel in the inner-city Ordsall district of Salford, in the early hours of December 26.
Greater Manchester Police (GMP) are treating his killing as a "hate crime" which may have been racially motivated.
Detective Chief Superintendent Mary Doyle, who is leading the murder inquiry, said: "It is an extremely unusual, savage and motiveless attack, an absolutely horrific crime, which is why we are taking the step of issuing it (the reward) a bit earlier than we normally would."
Mr Bidve's father Subhash Bidve has criticised the UK authorities after reading a Facebook post about his son's death before British officers were able to contact him in India and break the news.
He told BBC Radio 5 Live: "Nobody official from the UK Government or consulate or the Indian government called us and told us about this.
"I am really surprised because they confiscated his phone and must have known his father's or mother's number. They could have called us and told us what had happened to him."
GMP said two family liaison officers were now in regular contact with Mr Bidve's immediate relatives.
Referring to the post on the social networking site, Assistant Chief Constable Dawn Copley said: "That is not the way anyone should have to find out something so devastating and we completely understand how upset the family are.
"Social networking is instantaneous and we have no control over when and what people post on such sites, but no-one should hear such tragic news in this way.
"A family liaison officer was quickly put in place after Anuj's murder who made exhaustive inquiries to try and inform the family and deliver the awful news personally.
"Unfortunately, as the officer was attempting to contact the family through the right channels, a post was put on Facebook."
Ms Copley said the force was trying to bring the family from their home in Pune over to Manchester as quickly as possible.
"For reasons beyond the family's control, it is unlikely they will be able to do so until early next week so the force is putting plans in place to send officers to India to offer support," she added.
A 16-year-old boy and two 17-year-old boys arrested over the murder have been released on bail pending further inquiries.
Two men, aged 19 and 20, remain in custody.
Police have yet to find the murder weapon, believed to be a small handgun.
According to a Facebook page set up in Mr Bidve's memory, he "was killed for not answering a simple question - 'What's the time?'".
But police have not yet disclosed what was said between the killer and his victim.
He was in a group of nine male and female Indian students visiting Manchester for a short break over the Christmas holidays.
The students, who had not been drinking, were walking through Ordsall from their hotel towards the city centre when they became aware of two men on the other side of the street.
The gunman, a white man in his 20s who was wearing a grey top, walked across the road and engaged the victim in a short conversation before producing the gun and shooting the student at close range in the side of the head.
The killer ran back across the street before the pair fled on foot towards Asgard Drive and the Ordsall housing estate.
Mr Bidve was studying for a micro-electronics postgraduate qualification at Lancaster University, and was described by tutors as "an outstanding applicant at the very beginning of a promising career".
Described as "clever and sporty", he arrived in the UK in September after completing an electronics degree at Pune University.
Keith Vaz, chairman of the Home Affairs Select Committee, said he would be asking for a full report into the circumstances of Mr Bidve's death after speaking to his family.