Kylie Minogue Denies Teaming Up With Madonna For A Duet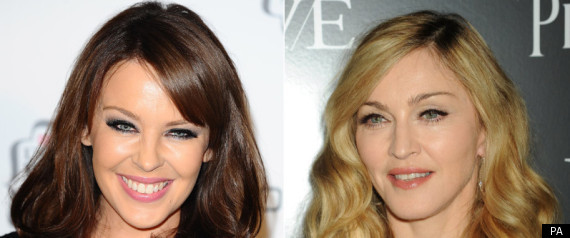 Kylie Minogue has denied she is teaming up with Madonna for a duet as part of a TV special celebrating her career.
The Spinning Around hitmaker is set to mark her milestone 25 years in pop with a one-off ITV1 extravaganza.
The show will reportedly feature Kylie performing with her sister Dannii Minogue and former collaborators Nick Cave, Robbie Williams and Jason Donovan.
Tabloids also claimed that the Queen of Pop Madonna, who has previously spoken of her admiration of Minogue, was set to join the star for a special duet to end the show.
Minogue has taken to Twitter.com to tell fans the rumour is just wishful thinking - but insists she would be keen to team up with the Material Girl in the future.
She writes: "It's just a rumour, but of course it would be amazing!! maybe one day:) #MadonnaKylieDuet."