Fruit And Vegetable Juice Improves The Skin, Say Scientists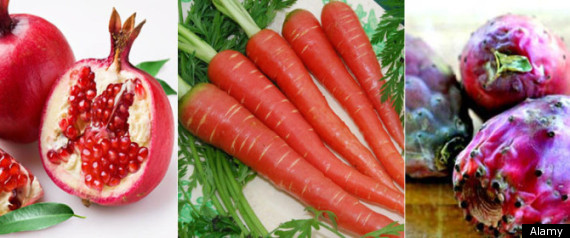 Eating your five-a-day of fruit and vegetables will not only keep you healthy and slim, but gives your skin a boost too, according to a new scientific study.
German scientists from the Institute for Experimental Dermatology at the University of Witten-Herdecke, discovered that the participants skin condition drastically improved and appeared thicker and more hydrated, when given a fruit and vegetable concentrate.
The study, published in the new issue of Skin Pharmacology and Physiology, involved two groups of 26 health, middle-aged women. Half of the participants were given a micronutrient food supplement Juice Plus +(R), Fruit Blend and Juice Plus+(R) Vegetable Blend make primarily of fruit and vegetable juice powder, for twelve weeks using a monocentric, double-blind placebo and randomised controlled design.
The other half were given a placebo capsule twice a day during the study period.
After the participants finished the course of fruit concentrate and placebo capsules, researchers discovered that those who took the fruit concentrate had a 39% increase of microcirculation of the skin, 9% more hydration, 6% increase in thickness and 16% more in density. Those who took the placebo capsule suffered a decrease in all of these.
The results followed an in-depth look into skin density and thickness, measured by ultrasound, and skin hydration, where scientists used a Cornometer(R) to assess transepidermal water loss.
The study found that the skin benefits from an optimal supply of fruit and vegetable-based nutrients and oxygen to facilitate the skin cell metabolism, producing visible skin improvements in hydration, density and thickness.
Find out how you can eat your way to healthy, glowing skin with our top food tips from the experts. Take a look at what fruit and vegetables are best for a clear complexion by director of Forest Secrets Skincare, Dr Barbara Olioso, skin therapist Louise Thomas-Minns and nutritional therapist and medical aesthetician at Wimpole Aesthetics, Robyn Mason.
Loading Slideshow
Pomegranate

"Pomegranate contains many anti-oxidant and phytonutrient compounds such as Ellagic Acid, that help keep inflammation in check and support the skin during the many elements of the day, such as heating and cold air, as well as environmental toxins," explains Robyn Mason.

Blueberries

"Blueberries are one of the most powerful edible antioxidants thanks to its unique anthocyanains. These build up the skin's capillaries and protect them from breakages, which cause rashes and broken veins," says Dr Barbara Olioso.

Carrots

"These cheerful, crunchy vegetables are sky-high in beta carotene, which strengthens the skin against sun damage," says Dr Barbara Olioso.

Artichoke

"Artichokes contain sillymarin and cynarin, whcih both help support the liver and gallbladder. This ensures skin doesn't turn dull and lifeless, as it gets rid of the toxins and waste from the body which also minimises puffiness," advises Robyn Mason

Prickly Pear

"These are Sicily's best kept secret... The prickly pear is a great tonic for the kidneys with its kidney detoxifying properties that help keep skin clear and glowing," says Dr Barbara Olioso.

Bananas

"Bananas are rich in potassium, which helps the body cope with stress, a collagen killer. This fruit will help your skin avoid stress-related break-outs and premature ageing," says Dr Barbara Olioso.

Broccoli

"Broccoli contains a compound that helps boost DNA repair cells and is high in vitamin C, which is needed for collagen production, as well as folate, which is needed for healthy new cell production. Broccoli is also a great source of Sulforaphane, which helps heal the skin from UV rays," says Robyn Mason.

Tomato

"Tomatoes, especially beneficial when cooked, are rich in Lycopene, which is a key anti-ageing property for the skin, so eat these whenever possible," advises Louise Thomas-Minns.

Coconut

"Coconut contains triglycerides, which are healthy fats that plump up skin membranes and cells by keeping them hydrated. Without these fats, the skin becomes dehydrated no matter how much water you drink. Adequate essential fatty acids really do make the skin glow," says Robyn Mason.

Garlic

"Garlic is rich in sulphur compounds and is known as the 'beauty mineral' due to its long established benefits for all kinds of skin concerns. Onions and garlic are also prebiotic foods which are good for the gut flora and supports liver detoxification - helping skin stay clear of toxin break-outs," says Robyn Mason.

Kiwi

"Snack on a kiwi fruit to bump up your vitamin C intake, as this is vital for boosting collagen production," says Louise Thomas-Minns.

Strawberries

"The fruit of passion is a rich source of vitamin C, a great collagen production booster. Combine these with carrots and you've got yourself a potent, but natural defence against the sun's UV rays," advises Dr Barbara Olioso.

Kale

"Kale is one of the best sources of beta-carotene, a fantastic anti-ageing anti-oxidant. In addition, it also contains other carotenoids, such as lutein and zeaxathin, which help protect the skin from UV rays. Kale also contains manganese, which is helps the Super-Oxide Dismutase, a hard-working enzyme that helps the skin fight against free radical damage," says Robyn Mason.

Avocado

"The green 'butter rich' avocado is rich in nutrients and helps keep skin soothe and soft on the outside. However, these are best eaten fresh rather than in an oil form, as the oil is prone to oxidation," explains Dr. Dr Barbara Olioso.

Pineapple

"Pineapples not only taste great, but they contain a massive amount of vitamin A, C and the bromelain enzyme, which helps burn fat and aids digestion. For the skin, this means that it helps break down fatty tissues and is particularly beneficial for reducing cellulite," says Dr Barbara Olioso.