Amir Khan's Boxer Brother Haroon Khan Held After A Man Hit By Car In Bolton, Manchester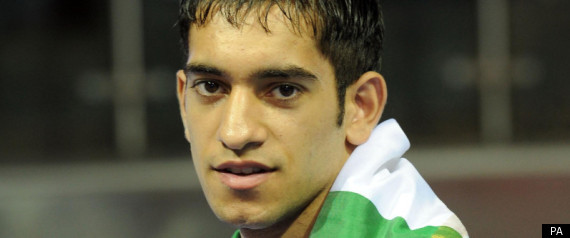 Amir Khan's brother Haroon Khan has been questioned by police after allegedly hitting a man in the former lightwelterweight champion's car in Bolton, Greater Manchester.
Haroon Khan, who will represent Pakistan in flyweight boxing at the London 2012 Olympics, was held after a 37-year-old pedestrian was allegedly knocked down in the bus lane.
The man suffered a fractured skull, but is said to be in a stable condition and recovering in hospital. His condition was described by the Sun as "not life threatening."
Haroon Khan, 21, also known as Harry, was driving his brother's Audi A4 at the time. He tweeted from his account
@harrykingkhan

Haroon khan
Just got home from police station had a accident in afternoon knocked a guy over everything on cctv and should be ok.
Ironically it was another traffic offence that Haroon Khan was keen to avoid earlier on in the week, tweeting
@harrykingkhan

Haroon khan
My NEW YEAR resolution is: not to get any parking tickets lol
Well wishers have been offering their support on twitter to the Olympic hopeful, who was born and brought up in the UK but will fight under a different flag from his older brother, Amir Khan, who won a silver medal in Athens in 2004.
Khan was convicted of careless driving in 2007 after driving through a red light and hitting a cyclist and given a six-month driving ban and a £1000 fine.