Ronnie Corbett Collapses At CBE Celebration Dinner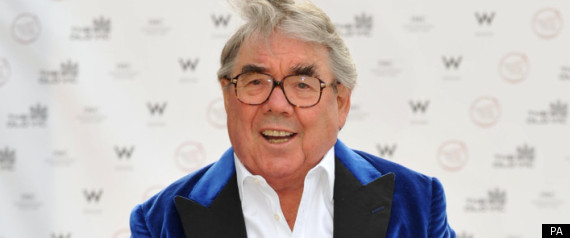 Funnyman Ronnie Corbett kicked off 2012 in a hospital bed after collapsing on New Year's Day as he celebrated his inclusion on the Queen's Honours list.
The Two Ronnies star was enjoying a Chinese meal with his wife Anne, their two daughters and four grandkids after his CBE announcement when he suddenly declared "I feel terrible" - before falling on to her.
Terrified Anne sought medical help for Ronnie, who was taken to Croydon University Hospital in south London for treatment.
The comedian's partner thinks prescription pills were to blame for the collapse, as her hubby has been taking a "considerable amount of medication" following a recent knee operation.
She says: "He was absolutely delighted to receive the honour but that has been tempered by him not feeling so well on Sunday.
"I thought he'd died. I've never been so frightened. Of course the little b**ger wanted to come home, but we said no. He's a bloody fighter."
Corbett was later transferred to a private clinic before being allowed home two days later and Anne is eager for her husband to ease up his work commitments.
She says: "I think he will have to slow down a bit. He is 81 and he never stops."
Corbett's Commander of the Order of the British Empire (CBE) honour was officially announced on New Year's Eve - Helena Bonham Carter will receive the same medal this year.
CELEB PICS OF THE DAY: