Russell Brand Divorce: Comedian Posts Video Of Himself Removing Wedding Ring Online (VIDEO)
Russell Brand has had quite a sordid past and is a self-confessed sex addict who had up to 20 romps a week before settling down for estranged wife Katy Perry.
But just two weeks after spending his wedding anniversary in New York, he posted a video of himself removing his wedding ring on porn site Nudevista.
In November the comedian went on a week-long university tour of America in a bid to entertain some rowdy drunken scholars.
However, before setting off on tour, Russell recorded the video in which he removed his ring.
In the video, he says: "I am going to meet people from sororities and fraternities. I don't know what a sorority is except for what I have seen (online) - that they are sort of sex clubs for women.
"A week of revolution and, more importantly, I am going to learn first-hand about sororities."
At this point in the video Russell removes his ring before saying: "I'm just going to place this somewhere very, very safe for the next week."
Interesting....
No doubt the Forgetting Sarah Marshall actor will backtrack and claim the video is all a light hearted joke but the video was only filmed a month before the star filed divorce papers in Los Angeles citing "irreconcilable differences" as the reason the breakdown of his marriage from pop star Katy.
At the time Russell was apparently happily married. Is this the behaviour of a happily married man?
Meanwhile, it has been alleged that Katy opened up to her ex-boyfriend Travie McCoy about the troubles in her marriage to funnyman Russell which caused a rift between pop star Katy and Russell.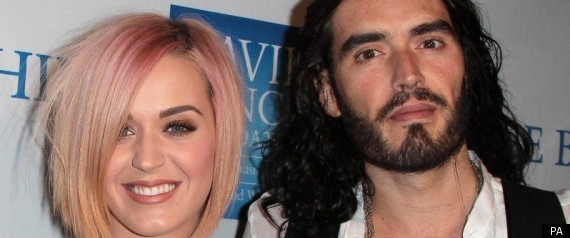 Speaking to Heat magazine, a source said: "They'd often speak at strange times of the night because they travel a lot.
"It's fair to say that she opened up to him about how hard her marriage had come. Travie never really 'got' Russell or their marriage."
Russell's jealous thoughts were sparked after singer became close to model Josh Kloss who appeared in her Teenage Dream video.
Self-confessed sex addict Russell also recently admitted he longed for his hedonistic past.
In an interview last week with Marc Maron on his WTF podcast, he said: "If I leave food alone, I start to think food is the answer. If I leave sex alone I think sex is the answer. Or love."
RUSSELL AND KATY's MARRIAGE IN PICS:
Loading Slideshow
(Getty Images)

(Splash)

(Splash)

(Splash)

(Splash)

(Splash)

(Getty Images)

(Getty Images)

(Getty Images)

(Getty Images)

(Getty Images)

(Getty Images)

(Getty Images)

(Getty Images)

(Getty Images)

(Getty Images)

(Getty Images)

(Getty Images)

(Getty Images)

(Splash)

(Splash)

(Splash)

(Splash)

(Splash)

(Splash)

(Splash)

(Splash)

(Bauer Griffin)

(Bauer Griffin)

(Bauer Griffin)

(Bauer Griffin)

(Bauer Griffin)

(Bauer Griffin)

(Bauer Griffin)

(Bauer Griffin)

(Bauer Griffin)