'Take Me Out' Contestant Aaron Withers Exposed As A Male Escort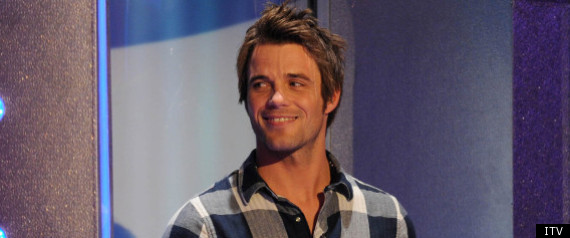 The chaps who appear on ITV dating show Take Me Out usually get plenty of attention from the ladies, but one gets a little more than most after he was exposed as a &pound50-an-hour escort.
Contestant Aaron Withers, 32, was watched by millions as he won a date with Wen, also 32, at the weekend, but the bachelor may be out of luck after it was revealed he advertised his services on website Platinum Select, which features more than 5,000 escorts.
On his profile page Aaron lists entertaining "mature clients" as one of his specialities and brags: "I have an awesome personality."
It was also revealed that 5ft 5in Aaron was arrested for assaulting a women and her boyfriend after they teased him about his height in a pub last year.
Take Me Out presenter Paddy McGuinness and show execs knew nothing about Aaron's secret as he had told producers he was a semi-professional surfer and asphalt layer.
Semi-professional surfer and asphalt layer sounds nothing like male escort to us, Aaron.
Last night the red-faced hunk told the Daily Mirror: "It seemed like easy money to fund surf trips when I first came to London, just a bit of fun. I was really skint and needed to earn cash."
He added that he "didn't have time" to pursue the interest he got from girls on the site and added that he never offered any X-rated services, saying: "I certainly didn't offer any more than that."
A representative for Take Me Out, said: "Aaron signed up to the Platinum Select website in 2006, for a six-month period to try and make some money. He did not declare it to us when he applied to the series."
"We are disappointed his record was not picked up in checks by TalkbackTHAMES, the producers of Take Me Out."
A spokesperson for TalkbackTHAMES added: "We will review procedures."