Daily Aspirin Intake May Cause Harm, Warn Experts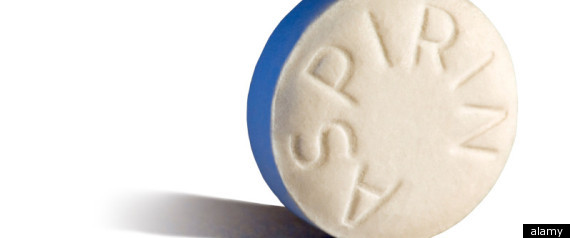 Healthy people who take a daily dose of aspirin to reduce their risk of a heart attack or stroke, may be doing themselves more harm than good, new research suggests.
At present, many doctors prescribe aspirin to those with a history of cardiovascular disease or strokes as it thins the bloods and prevents it from clotting.
However, despite the study discovering a 10% decrease in cardiovascular disease as a result of regular aspirin intake, the benefits are offset by a 30% increase in the risk of internal bleeding in those in good health with no medical family history of heart problems.
The study, carried out by St George's, University of London and published in the Archives of Internal Medicine, investigated the conflicting evidence to establish whether the dangers of taking aspirin outweigh the benefits. The results were taken from the data from nine clinical trials involving over 100,000 participants.
The study found that for every 120 people treated with aspirin for six years, one non-fatal heart attack was prevented. However, in contrast during the same period, one in 73 people suffered from internal bleeding.
"The benefits of aspirin in those individuals not known to have these conditions are far more modest than previously believed and, in fact, aspirin treatment may potentially result in considerable harm due to major bleeding," says lead researcher Dr Rao Seshasai.
However he also urged that those with a proven risk of cardiovascular disease should not stop their treatment following these study results.
"The beneficial effect of aspirin on preventing future cardiovascular disease events in people with established heart attacks or strokes is indisputable. We urge people with these conditions not to discontinue their medication unless advised to do so by their physicians for valid reasons," Dr Seshasai added.
This advice is backed by Dr. Nigel Capps from Heart UK as he also urges those already taking aspirin for proven cardiovascular disease, to continue to do so.
"The most important message is that those who have a form of cardiovascular disease taking aspirin as a secondary preventative, shouldn't stop taking it as the study's message isn't for everybody," Dr Capps told The Huffington Post.
Dr Capps also adds that those taking aspirin as a primary preventative should seek the advice from their GP and consider the pros and cons.
"People taking aspirin as a primary prevention should consider that they'll experience less benefits and a higher risk of internal bleeds, so it's important to discuss your options with your GP.
"It's vital to consider the pros and cons if you do continue to take aspirin and you may want to consider lowering the dosage as it may have a more positive affect on your health."
The current daily recommendation for those who've suffered a heart attack or stroke, or those with family history of cardiovascular disease, is a daily dose of 75mg.
According to the British Heart Foundation, cardiovascular disease claims the lives of around 82,000 people a year in the UK and 49,000 people die of a stroke each year. Heart disease is one of the main causes of death in people under 75 in the UK and is the cause of 28% premature deaths in men and almost 20% in women.