Implants Scandal - Andrew Lansley Admits Government Has No Power To Force Private Clinics To Replace PiPs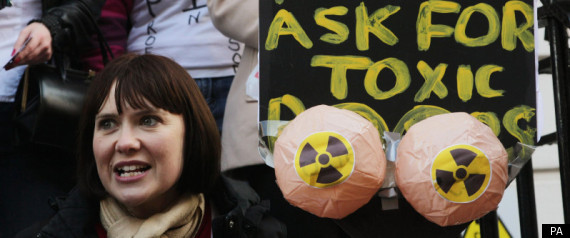 The Health Secretary has admitted that the government has no powers to force private clinics in Britain to replace PiP implants. Andrew Lansley was speaking as the government published newspaper adverts promising that the NHS would support all women who'd have the implants, even though taxpayers won't be replacing implants put in for cosmetic purposes.
Yesterday women marched on Harley Street clinics in the West End of London after many of them said they would not be replacing the PiP implants, which have sparked fears they could rupture.
Lansley told Andrew Marr on BBC One that while the government was powerless to act, the private clinics had "clear legal obligations...as well as a moral obligation" to help their former clients, implying that the onus would be on women to sue the clinics who refused to help them.
"The argument that they somehow can't afford to do so begs the question, 'Where was their insurance?'" he added.
Lansley reiterated that the NHS would remove cosmetic PiP implants, but wouldn't replace them unless they had been put in for clinical reasons.
"Talk to your GP and on the basis of that the NHS can give you access to investigation and if you need it, removal," he said, but reconfirmed: "It is not the role of the NHS to replace implants purely for cosmetic purposes."
"This is not an urgent procedure. There is no clear evidence of increased risk. There is no link to cancer. The French authorities are very clear there is no link to cancer," he said.
"I know women are worried, but I don't think they should proceed on the basis that there is an urgent need for the removeal of these implants."
The government's advice on PiP implants reads: "There is not sufficient evidence to recommend routine removal. We have always recommended that women who are concerned should speak to their surgeon or GP. The NHS will support removal of PIP implants if, after this consultation, the patient still has concerns and with her doctor she decides that it is right to do so."
Earlier this month Fazel Fatah, a member of the government review panel on PiP implants, said a "significant number" of implants could have ruptured inside women without their knowledge.
He urged the government to make it "crystal clear" whether women should have their implants removed.
And fellow panel member Tim Goodacre said women should have the implants removed to prevent "uncertainty".