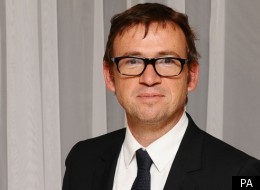 To anyone who caught a train or a bus last year, it will come as no real surprise – David Nicholls' One Day has been officially confirmed as the biggest selling book of 2011.
The bright orange cover of Nicholls' book was as ubiquitous as it was eye-catching throughout the latter part of last year as everyone seemed to be devouring the 45-year-old's tale of two university friends who fall in and out of love throughout their adult lives.
The novel sold 988,165 print copies, comfortably topping The Bookseller's Official UK Top 50 for 2011. It bettered the second place book, Jamie Oliver's Jamie's 30-Minute Meals, by more than 476,000 copies.
And in an interesting rebuke to cynics who would put One Day's success entirely down to the August film adaptation that starred Anne Hathaway, The Bookseller report that the original paperback edition, with 637,969 copies sold, would have topped the chart on its own. The film tie-in edition would have come eighth.
"I'm obviously delighted, and a little amazed, and hugely grateful to all the readers who've bought the book and passed it on," Nicholls told Huffington Post UK Culture.
"And now I'm looking forward to getting back to my desk to try and write the next book."
So what made One Day the publishing phenenomen of 2011? The Telegraph put it down to the fact the romantic elements "appeal equally to men and women", while the Guardian praised Nicholls' gift for comedy, adding that "One Day's characters are so luminously rendered that they quickly assume heart-thumping significance."
Regardless of critical opinion, One Day was a book that united thousands of people in allowing them to reminisce about their university days. It's simple premise – covering the same day in the lives of its two protagonists every year for twenty years – was also an ingenious way of developing its characters and spanning their history, from youthful naivety to parenthood, while still zipping the action along quickly.
Despite One Day's remarkable success, 2011 saw a decline in print sales overall, largely because of the rise of eBooks and eReaders. Only One Day and 30-Minutes Meals sold more than 500,000 copies, a feat achieved by seven titles in 2010.
The Official 2011 Top Ten:
One Day (David Nicholls), 988,165
Jamie's 30-Minute Meals (Jamie Oliver), 504,557
Guinness World Records 2012, 491,491
A Tiny Bit Marvellous (Dawn French), 471,825
The Help (Kathryn Stockett), 468,594
Room (Emma Donoghue), 420,154
Jamie's Great Britain (Jamie Oliver), 401,950
The Girl with the Dragon Tattoo (Stieg Larsson) 396,583
The Confession (John Grisham), 363,422
The Girl Who Kicked the Hornet's Nest (Stieg Larsson) 337,930
What might top the best-seller chart in 2012? Here's our round up of the books we're most looking forward to...
The dour librarian who penned some of Britain's greatest post-war verses continues to be one of the few modern poets who can transcend the literary establishment. It is therefore with great interest that Archie Burnett, Larkin's literary executor, presents what promises to be the most in-depth study yet of the work of the man who did all he could to reject his literary fame.

Townsend is already assured a big 2012 as it marks the 30th anniversary of her most famous creation, the diarist Adrian Mole. However, even without such landmarks, any new work by the 65-year-old is an event and the premise of her latest novel sounds like perfect material for her unmistakable comic touch. On the day her children flock the nest, a mother climbs into bed and stays there - leaving her hopeless hubby to fend for himself.

John Lanchester fourth novel (and first for ten years) sounds so ambitious, it's impossible not to look forward to it. Coming in at a heavyweight 630 pages, it recounts the experiences of several different Londoners who all occupy the same £1m per property street. The scope of Capital encompasses characters as varied as a greedy banker, an African footballer, an illegal immigrant working as a parking inspector and a family of Muslims who run a shop. If he pulls it off - and there's no reason to doubt he will - Capital could be truly epic.

Publishers Random House have high hopes for this story of a man who one day discovers his estranged son has shot a presidential candidate - and with good reason. Ostensibly a crime thriller, in American screenwriter Noah Hawley's hands it plays out more as a meditation on fatherhood with a subplot that brilliantly subverts the romance of the American road trip. The Good Father is sure to be a massive hit on both sides of the Atlantic.

Welsh's fortunes as a novelist have varied since he last revisited Renton, Sickboy and co in 2002's Trainspotting sequel Porno. The Bedroom Secrets of the Master Chefs (2006) and 2008's Crime, forays into magical realism and crime thriller respectively, were both attempts to outgrow the drug-fuelled underbelly of Leith that garnered mixed reviews. However, this year's much-anticipated Trainspotting prequel Skagboys comes on the back of 2009's excellent short story collection Reheated Cabbage and will hopefully re-establish the Scotsman as one of our most entertaining and exciting writers.

Andrew Motion's first foray into children's literature is made all the more fascinating by his decision to write a sequel to Treasure Island, Robert Louis Stevenson's timeless 1883 classic. Few doubt Motion, who spent a decade as poet laureate, has the chops to do the tale justice, but quite where he'll take the treasure-hunting cabin boy Jim Hawkins we're not sure - though expect some pirates to get in his way.

After 2009's overblown Transition sated the science fiction side to Iain Banks's oeuvre - if not too many of his critics - Stonemouth promises to be a product of Iain Banks the general fiction author who, let us not forget, gave the world such black comic masterpieces as The Wasp Factory and The Crow Road. About a man who gets on the wrong side of a local crime family and is forced to confront his past, fans are very much hoping for a return-to-form from the Scotsman.

25 years after her defining masterpiece Beloved won her a Pulitzer, Toni Morrison is set to release her tenth novel. Say what you like about her output since then, but if one thing is for sure its that the 1993 Noble Prize winner has never rested on her laurels. Home is set to explore racism in 50s America through the eyes of a black Korean war veteran on a mission to save his sister.

It's been almost ten years since Mark Haddon announced himself in adult fiction with the astonishing breath of fresh air that was The Curious Incident of the Dog in the Night-Time. 2006's follow up, A Spot of Bother, explored similar ground by exploring mental health issues from the internal perspective of a sufferer. His next book, The Red House, promises to widen his scope further by describing a family struggling to build bridges after their mother's death over a week in a rented house in Wales.

Sexuality is a topic that has featured in most of John Iving books, from the swinging 60s couple in 1974's The 158-Pound Marriage to the apple orchard romances in The Cider House Rules. His eighteenth novel, In One Person, will be no different as it follows a bisexual man in his 60s as he reflects on the wilder moments of his youth.

After 2011's commercial and critical success of the film adaptation of her 2003 novel We Need To Talk About Kevin, the time is ripe for Lionel Shriver to establish herself to entirely new audience with The New Republic, her eleventh novel. A comedy about terrorism in an imaginary version of Portugal, it was written before her biggest hit - but should do well on the back of it.

After the extraordinary success of Caitlin Moran's light-hearted (though far from trivial) take on modern feminism, How To Be A Woman, in 2011, many readers' appetites will be wet for a more academic take on the subject. Naomi Wolf returns this year for the first time since 1991's The Beauty Myth with a new cultural history of female sexuality and how it has been perceived.

Supposedly his 'final insult' to England after deserting us in favour of New York in 2010, Lionel Asbo is Amis's satire about a violent criminal who wins the lottery. It also promises to revive his feud with that other titan of literature Katie Price, who Amis criticised in 2009 and has now decided to immortalize in fiction as he lampoons celebrity culture. Expect much thinly-veiled sniping at the X Factor and, probably, renewed accusations that Amis doesn't like women very much.

The reach of Will Self's imagination and satirical bite has long since been proven to know no bounds. On the back of the fantastic gonzo-surrealism of 2010's Walking To Hollywood comes Umbrella, in which his long-running character - the shrink Zack Busner - starts a new job at a London lunatic asylum and finds coma victims who have been sleeping out the 20th century.

Never the most prolific novelist, since 2007 even Zadie Smith's steady output of short stories have dried up, meaning NW is possibly the most anticipated fiction title of 2012. After On Beauty, 2005's tender tale of two families headed by a pair of warring academics, NW is about a group of friends who grow up - and apart - on a estate in North-West London.