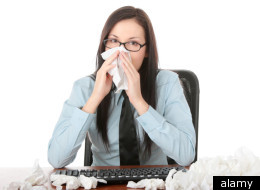 The economic downturn is taking its toll on the nation's health as almost a third of Brits confess they are more likely to go into work when they are sick because of the unstable financial climate.
 
Job insecurity fears are driving workers to risk their own health and that of their colleagues by venturing into work with contagious illnesses.
Nearly three quarters (72%) of the 1,600 participants polled said they went into work last year while sick.
Young people on lower salaries were the most likely to brave the office despite feeling ill. Nearly half (48%) of 16 to 24-year-olds said they were more likely to go into work sick because of the economic downturn and some 85% said they went into work sick last year.
The income group most likely to go into work sick was those earning less than £20,000 followed by those earning between £21,000 and £30,000 and then those earning between £31,000 and £50,000.
Raising concerns among health experts, more than half (53%) of those questioned risked spreading infection by heading into work with a contagious illness such as the flu or a cold in the past year.
 
Dr Andy Jones, Medical Director at Nuffield Health, said:
  
"'Presenteeism' means those who are ill go into work sick, possibly infecting others. Any doctor would advise workers to stay at home and rest if they are unwell."
Having too much work to do was the biggest driver for workers turning up on duty while sick but almost half said they did so out of fears for their job security.
Women were more likely than men to go into work because of the recession (33% compared to 27%) with the retail industry feeling the most pressure to turn up in spite of feeling ill.
Marcus Powell, Managing Director, Nuffield Health, Corporate Wellbeing, said:
 
"Employees going into work sick costs business dearly - up to £15bn a year. Our research shows the economic downturn has made people more likely to go into work sick often because they fear losing their job." 
 
In a report last year by the Chartered Institute of Personnel and Development (CIPD), 'presenteeism' was shown to worsen stress levels, negatively effect productivity by transfer of illness and the sick being unable to work effectively.
Avoid taking the flu to work with these natural remedy suggestions...
Natural Remedies For Colds And Flu
Garlic is well known for its immune system benefits and is best eaten raw or crushed in soups and hot drinks. Garlic combats snotty noses by releasing a compound called allicin, which is full of anti-bacterial and anti-fungal properties.

If you're struggling to get a good night's sleep, tackle the problem with a stick of celery. Celery contains phthalidesm which has sedative powers and helps the body shut off and rest easy during the night.

A great natural remedy for respiratory disorders as it helps to release mucus from the body. It is also an antispasmodic which helps relax bronchial tubes, clearing the airways. Brew a cup of thyme tea or use it as an oil to treat chesty coughs or emphysema.

Nosebleeds can be a symptom of cold and flu. Prevent this from happening by adding leafy greens to your diet. Packed with Vitamin K, greens fortify sensitive capillaries and help your blood clot quickly if you have a nose bleed.

Jujube tea is rich in Vitamin C and great for the immune system and is widely used for relieving aching throat muscles.

Carrots are ideal for treating cold-induced headaches as they contain beta-carotene, which can reduce inflammation in the blood vessels of the brain. Chop them up and put in a stew, grate them on top of a salad or blend them to create a headache-friendly soup.

We already know that proteins are best for boosting mid-afternoon energy slumps, and they work just as well with energy-zapping colds and flu. A handful of raw nuts helps give the body a well needed energy boost, especially almonds and walnuts.

When the flu bug strikes, chances are the lack of sleep, appetite and constant nose blowing will begin to wear you down. Lavender is great for calming the nerves and relieving feelings of anxiety and stress. Use either dried lavender to scent the room or apply lavender oil on your pulse points for an instant calming boost.

A low immune system can lead to weakened digestive system. Strengthen it by using pineapple which helps reduce intestinal inflammation and speeds the breakdown of protein, reducing gas and discomfort.