Young People 'Encouraged' To Use Sunbeds, Say Skin Cancer Experts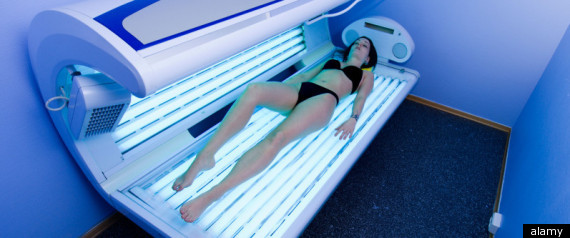 A cancer charity has warned that four in 10 young people under the age of 25 are being 'encouraged' to use sunbeds by their friends.
The Cancer Research UK discovered that 26% of 18 to 24-year olds have been given the push to use sunbeds by friends or a family member when using it for the first time.
The main reason for using a sunbed is to 'improve appearance', the charity's SunSmart 'R UV UGLY?' study found, with 53% of them dubbing it the 'fashionable' thing to do.
Of the 3,000 adults questioned, 474 were aged between 18 and 24 and 176 were sunbed users. More than a quarter (26%) admitted they weren't bothered about the serious health warnings of sunbeds and 62% revealed they've used sunbeds under the age of 18 – which is now illegal.
"It's surprising to see that two-thirds (66%) of young sunbed users received encouragement from a friend, family member or partner when using a sunbed for the first time, despite the long-term health risks they pose," says the SunSmart campaign manager, Chris Lunn.
"By highlighting the health risks, we hope people will become more aware that using sunbeds can increase the chances of developing skin cancer, and so discourage their friends and family from using them in future.
"We may all want to improve our appearance to help alleviate the mid-winter gloom, but sunbeds aren't the answer. As well as increasing your risk of skin cancer, you could be left with wrinkles, leathery skin and age spots.
"If you must have a tan, faking it is the best option."
Skin experts claim that those who use sunbeds before the age of 35, increase their risk of developing malignant melanoma, the deadliest form of skin cancer, by 75%. This is the second most common cancer among people aged between 15 and 34.
It is now illegal for under-18s to use sunbeds after the Sunbeds (Regulation) Act came into force in April 2011.

The Cancer Research UK SunSmart campaign has issued their list of 'sunbed myths':
Being tanned is not a sign of health
The simple fact that your skin has changed colour is a sign of damage. Without goggles, UV from sunbeds can also damage your eyes and lead to irritation, conjunctivitis and eye cancer.
Skin damage from sunbeds is just as big a problem for young people
You can't always see the damage that UV does straight away as it builds up gradually. But every time you use a sunbed you are damaging your skin, making it look worse in the long run. Using sunbeds for the first time before the age of 35 increases the risk of developing melanoma skin cancer by 75%. Surgical treatment for skin cancer can result in serious scarring.
Spending more time on sunbeds will not make your tan look any better
We each have our own tanning limits. No matter how much UV you receive there comes a point when your skin won't get any darker. Using sunbeds will make your skin coarse, leathery and wrinkled. Boosting your tan by having two sunbed sessions within 24 hours or after sunbathing is particularly harmful. Get your beauty sleep in your own bed, rather than on a sunbed.
Sunbed tanning is no safer than sun tanning
Sunbeds are not a 'safe' alternative to sun tanning. The main cause of skin cancer is overexposure to ultraviolet (UV) radiation. Like the sun, sunbeds give off UVA and UVB rays. While sunburn is mostly caused by UVB, both types of UV can cause DNA damage, which can lead to skin cancer. Modern sunbeds emit mostly UVA rays, but UVB rays can make up anywhere from 0.5-4% of their total output. These emissions can be comparable to the midday sun. And the amount of UVA given off can be 10-15 times higher than the midday sun.
You cannot tan safely by building your sunbed tan gradually
Unfortunately, using sunscreen or limiting your time on a sunbed will not completely protect your skin from damage and ageing. In fact, short periods of intense, irregular UV exposure, like you get on a sunbed, are the fastest way to damage your skin.
A tan will not provide much protection from the sun on holiday
A tan offers very limited protection from sunlight or burning. At most, a sunbed tan is the equivalent to a sunscreen with SPF of just 2-4. Not enough to keep you safe in the sun. And if you don't tan easily in the sun, you won't tan easily on a sunbed.
You don't need to burn to get a tan
Burning or going red under a sunbed is a sign that you have seriously harmed your skin. UV can penetrate deep into the skin's layers and damage the DNA in our skin cells. Cells damaged by UV are at greater risk of mutating and then dividing uncontrollably, which is what happens in cancer.
You don't need a sunbed to produce vitamin D
Vitamin D is essential for good health. Our bodies make the vitamin when our skin is exposed to UV rays and it is also present in certain foods. You only need short exposures to the sun to produce adequate amounts. So you don't need a sunbed to get your vitamins!
Cancer Research UK's SunSmart R UV UGLY? campaign is offering free skin assessments at all UK sk:n clinics. To book call 0800 822 3037 quoting 'R UV UGLY?, text R UV UGLY? to 63757 (standard rates apply) or visit here.