Hacker group Anonymous has shutdown the websites of the US Department of Justice, the FBI, the Record Industry Association of America, the Motion Picture Association of America and Universal Music overnight.
The largest ever hack by the infamous group was in protest against the US government's forced closure of the popular file-sharing site, Megaupload.
CNN reports that federal agents arrested the leaders of Megaupload.com on Thursday 19 January 2012.
Anonymous took to Twitter, writing a 140 character admission "justice.gov & universalmusic.com TANGO DOWN! You should have EXPECT US! #Megaupload"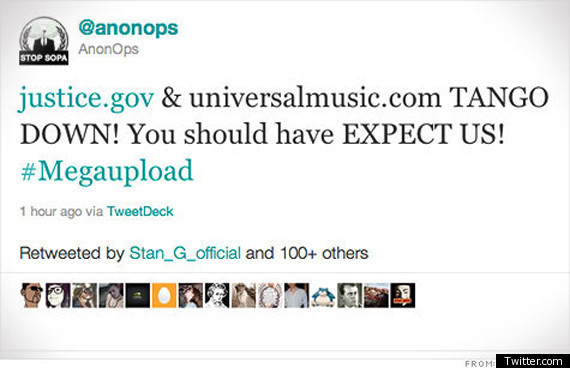 According to that site, Universal had been trying to stop Megaupload from broadcasting a promotional video which featured a number of artists from the Universal stable.
He was arrested in New Zealand along with co-accused Finn Batato, 38, and chief technical officer and co-founder Mathias Ortmann, 40, both from Germany, and Dutch national Bram van der Kolk, 29.
The Stop Online Piracy Act is making its way through the US Congress, and if passed, would shut down file sharing sites like Megaupload.
SUBSCRIBE TO & FOLLOW UK TECH