Pictures Of The Week: Costa Concordia And Muhammad Ali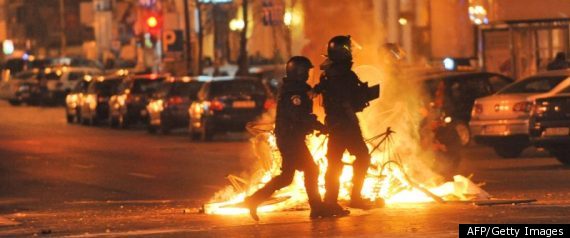 This week in pictures, as the Costa Concordia slowly slips below the waves in the Tuscan waters of Giglio a satellite grabs a stunning photograph of the stricken ship.
In Romania police walk past a fire lit by protesters in the centre of Bucharest during a demonstration against the government's austerity program and Romanian President Traian Basescu. Clashes erupted during the protest as demonstrators pelted riot police with stones.
Owners with their dogs attend a blessing of pets and animals during a special service at the Church of S. Francesco da Paola in Venice, Italy. The ceremony is held in honor of St Francis of Assisi, the 13th Century Italian friar renowned for his love of animals.
As Muhammad Ali celebrated his 70th birthday, 'I Am' by Joe Petruccio from Boxing is an Art: The Official Muhammad Ali Art Collection opened at The Generation Pop Gallery, Manchester.
British artist David Hockney takes a picture of press photographers with his mobile phone in front of his painting entitled 'The Arrival of Spring in Woldgate, East Yorkshire 2011 (twenty-eleven)' at the his exhibition David Hockney RA: A Bigger Picture in the Royal Academy of Arts. The exhibition is the first major showcase of David Hockney's landscape work to be held in the UK. Photo: Getty Images
Rafael Nadal of Spain plays a forehand in his second round match against Tommy Haas of Germany during the 2012 Australian Open in Melbourne. Photo: Getty Images
While in New Zeland a surfer is thrown from his board as he catches a wave during the National Surfing Championships at Piha Beach, Auckland.