Robin Gibb Makes Classical Debut On 'Titanic' Album, Continues Cancer Treatment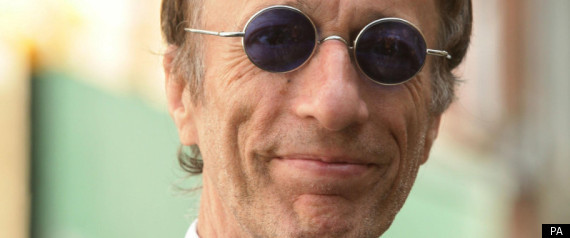 Robin Gibb is undergoing chemotherapy in a bid to beat liver cancer.
The Bee Gees star, 62, was admitted to hospital in November and cancelled a number of high profile performances after he was described as "frail".
Gibb is to make his classical debut with a concept album about the sinking of the Titanic.
The singer is also due to perform at the premiere of The Titanic Requiem which will be launched with a concert in London in April.
Gibb, 62, said recording the album with the Royal Philharmonic Orchestra has helped him "on the road to recovery".
The announcement of the release of his Titanic album coincides with the centenary of the sinking of the "unsinkable" luxury liner. It is also just days after at least 11 people died as the cruise ship Costa Concordia capsized off the coast of Tuscany.
The symphonic album, recorded over the past year in London's Air Studios, features vocals from Gibb himself as well as tenor Mario Frangoulis and teenage choirgirl Isabel Suckling.
Gibb, who performs the track Don't Cry Alone, said: "It has been an incredible experience working with my son RJ. There is a creative freedom and uninhibited state that comes from working with a family member.
"Working on this album and with RJ has been a driving force, and one that has helped me on the road to recovery."
The premiere concert will take place at the Central Hall in Westminster, London, on April 10, with the album due for release on March 19.
At the launch of a charity project on Wednesday, Gibb's spokesman Mick Garbutt told the Daily Mirror that he is "very unwell" but he is battling through the draining treatment.
Mick said: "He's very strong willed - if anyone can beat this it's Robin."
He added: "He is receiving regular chemotherapy and fighting hard. He is also heading home to be with his family at every possible opportunity as that's where he feels comfortable, but the reality is that he is very unwell.
"He's an incredible man and enjoys lots of support from his close circle of friends and family, and particularly from his wife Dwina."
The musician, who is resting at his £8m home in Oxfordshire, was apparently devastated to be missing a charity event for the music project Rock The House but he is determined to still support the causes that are close to his heart.
"He's determined to keep supporting good causes which he believes in strongly even as he fights this terrible illness," said Garbutt.
"The support he has been receiving from fans has been fantastic - he's a national treasure really. While he can still use his profile to raise awareness for issues close to his heart he will always do so."
In a statement posted on his website, Robin said: "I wish to thank my family, friends and fans and the many thousands of people who do not know me but have enjoyed Bee Gees music and have wished me well."
He added: "I have been very unwell and am now on the road to recovery."