Tulisa And Fazer Split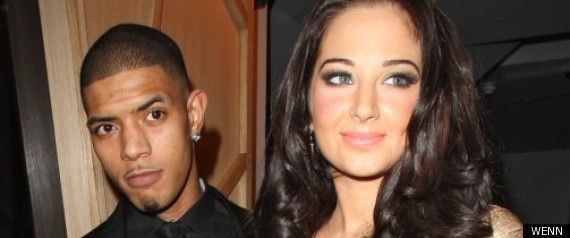 X Factor judge Tulisa Contostavlos has split from her N-Dubz bandmate boyfriend Fazer following a series of bust-ups.
Tulisa has moved out of the North London flat she shared with rapper Fazer after the couple fell out whilst on holiday in Mauritius and is now staying with her PA, Gareth Varey.
Speaking to the The Mirror, a source said: "It's all over for Tulisa and Fazer. Fazer has been out clubbing twice this week without Tulisa, and she, too, has been spending more time with her friends away from him.
"They are insisting nobody else is involved and clearly don't want to stick the knife in to each other because they've been close since they were 11.
"They've still got a lot of respect for each other, but they've had a very turbulent relationship."
The source added: "They're both very feisty and not scared to speak their mind, and one of them will often storm out and tell the other their relationship is over during their fiery rows.
"But they really do sound serious this time. It wouldn't be out of the ordinary if they changed their mind in a week or two and got back together but their closest friends feel it's different this time."
Tulisa - who is currently working on solo material - hit the town on Saturday night but managed to put on a happy face for the paps.
An onlooker said: "Later on in the night, Tulisa looked more and more worse for wear, but still managed to joke with passers-by."
However, it seems Fazer might not be taking the split so well.
A source told Daily Star: "Fazer has been staying with a friend too. But he's has been telling people in his circle that he still loves her and wants her back.
"Tulisa is keeping her distance. They've been ignoring each other ever since the disastrous holiday."
CAUGHT ON CAMERA:

Loading Slideshow
Caught On Camera

'How does it go again?' Tara Palmer-Tomkinson forgets how to walk after a night on the tiles. (Pic: WENN)

Caught On Camera

We have a feeling former supermodel Elle MacPherson wouldn't look <em>quite </em>so pleased with herself if she could see what it was doing to her face (Pic: WENN)

Caught On Camera

George Clooney does a mean impression of Prince Charles. <em>Really</em> mean. (Pic: WENN)

Caught On Camera

Actress, singer, writer, cook, wife, mum... no wonder Gwyneth Paltrow is looking so pooped. (Pic: WENN)

Caught On Camera

Johnny Depp in <em>Charlie and the The Chocolate Factory</em> + The Grinch + Marilyn Manson = Jessie J (Pic: WENN)

Caught On Camera

And <em>smiiiiiiiiiiiiiiiiiiize</em>. Well, nice try anyway Jodie. (Pic: WENN)

Caught On Camera

Just wrong Justin. Wrong, wrong, wrong. (Pic: WENN)

Caught On Camera

Just wait until your baby arrives Peaches... you'll be looking like this on a regular basis. (Pic: WENN)

Caught On Camera

To be honest, we're pleased to see the back of cheeky Pixie Lott (Pic: WENN)

Caught On Camera

David Hasselhoff should've gone to Specsavers (Pic: WENN)

Caught On Camera

We should at least be thankful that Kerry Katona is wearing pants. You hear that Britney and Paris? (Pic: WENN)

Caught On Camera

P<em>rrrrrrrrrrrrrrrrrrrp</em>! Let's hope Rihanna laid off the baked beans before this gig - not that her male fans are complaining. (Pic: WENN)

Caught On Camera

Look like the wind did change in Brooke Shields' case. (Pic: WENN)

Caught On Camera

'Come and get it ladies!' It looks like newly single Russell Brand is already back to his old ways. (Pic: WENN)

Caught On Camera

We're not sure what Sugababe Amelle has just smelt but we have a hunch it was highly offensive. (Pic: WENN)

Caught On Camera

We have a feeling Matt Damon's stylist was on their Christmas hols whne this was taken. (Pic: Rex)