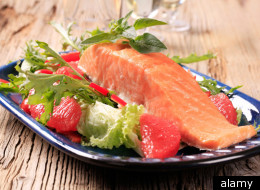 Health-conscious women who cut out red meat and live on a diet of mainly chicken and fish, could be doing their bodies more harm than good.
Researchers warn that such diets can impair health and lead to an iron deficiency.
TV doctor and health campaigner Christian Jessen said: "The high rate of iron deficiency among women in a developed country like the UK is a real concern.
"The side effects are subtle and can creep on up you – you can end up feeling tired, lethargic with no get up and go." Nutritionist Amanda Ursell said: "Red meat such as beef, lamb and pork... contains a wide variety of nutrients in a relatively small amount of food."
An iron-rich diet needn't entail gorging on steaks and burgers every night. If you're concerned about your health and weight, try these meat-free iron-rich foods.
Iron-Rich Foods For Veggies
Get your daily fix: Serve as a side salad with a drizzle of extra virgin olive oil, a squeeze of lemon and plenty of black pepper. Alternatively wiz up in the blender and mix with stock for a tasty watercress soup. Not forgetting, of course, the classic British egg and cress sandwich.

Get your daily fix: Mixed beans are great alternative to meat. Add a bit of sustenance to salads with cold mixed beans or stir through a casserole for to add bulk and thicken up the sauce.

Get your daily fix: Add mixed nuts to muesli, cashews to your curries or spread a whole-nut butter on your toast in the mornings. But be warned, nuts are very calorific so stick to a small handful per day.

Get your daily fix: Keep a pack of dried apricots in your desk drawer and eat as a mid-afternoon pick-me-up when the sugar slump hits. Alternatively, mix with nuts and sprinkle over yoghurt for a healthy breakfast.

Get your daily fix: Chop them up and sprinkle over porridge along with a drizzle of honey - or add to a spicy lamb casserole for a sweet Moroccan twist.

Get your daily fix: Stir a spoonful into a tub of plain or vanilla yoghurt or add to your morning muesli.