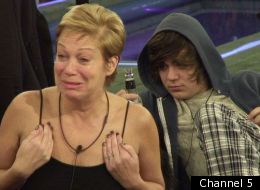 Loose Women star Denise Welch has been crowned the winner of Channel 5's Celebrity Big Brother.
She was hugged and congratulated by X Factor reject Frankie Cocozza who received the second highest number of votes to become the runner-up of this year's series.
Earlier in the programme, former captain of the Welsh rugby team Gareth Thomas, glamour girl twins Kristina and Karissa Shannon and Reservoir Dogs actor Michael Madsen were evicted from the house.
Welch, who looked shocked and broke down in tears when she was named as the winner, was a prominent figure in this year's series.
She had a love/hate relationship with actor Madsen, and sparked the biggest argument of the series earlier this week when she pulled down
one of the twin's pyjamas during a boozy night.
Moments before leaving the house, she punched the air and said: "I'm ready when you are."
Welch, who wore a black sequinned dress, exited the house to a cheering crowd and exposed her cleavage before greeting presenter Brian Dowling.
All the latest pictures here:
Celebrity Big Brother Days
Day 22

Day 22

Day 22

Day 22

Day 22

Day 22

Day 21

No more for nice guy Romeo. His number is up as the 7th Celeb to leave

Nicola is the 6th housemate to be booted off the show

Natalie if number 5 to go

Kirk is the fourth eviction from CBB

Geotgia Salpa is the 3rd housemate evicted

Day 11

Natasha Giggs is the second eviction from the CBB house

Bunny Girl

CBB Angels Jedward give pray in the CBB house

Hair Day

Frankie gives it a bit of muscle infront of his CBB housemates

Hot tub time again!

Andrew poses for his CBB eviction portrait

Andrew Stone is the first CBB housemate evicted

Pondering in the CBB diary room

I'm a living in a box

Kirk looking pretty in pink

Let's hug it out Kirk

Prince Gareth on a fairytale flying adventure in the CBB garden (with a little help)

Prince Gareth chats to his CBB fellow housemates during an enchanting task

Princess Georgia ponders how this CBB story may end

It's hugs all around in the CBB house

Three little Pigs having a laugh under the eye of Big Brother

Kirk and Natasha have a quick smooch

Prince Gareth goes all Mission Impossible to save Princess Georgia

Blow the house down!

Andrew in the diary room

Tom Cruise catches 40 winks ... actually our mistake, that's Andrew!

Time for a pool party in the CBB digs we think ...

Our resident CBB babes hit the hot tub (again)

Our Essex lover boy seem a little better now ... a little female company in the CBB House always seems to cheer him up

Kirk doesn't seem totally relaxed for some strange reason ...

All our celebs stretch out in the house (some more than others)

Gareth flexes his muscle in a rather dashing outfit

Jedward go double bubble in the CCB house

It's The only way is Elstree for Kirk thesedays!

Frankie looks a bit stunned with all the goings on around him

Nicola finds some time to herself to soak up the atmosphere

Andrew does the splits ... and why not?

Andrew chats to his fell CBB housemates (in a rather natty Jacket number)

Nothing like wearing shades in the CBB house!

This isn't The Full Monty Andrew. This is Big Brother!

Andrew gets all emotional in the Diary Room ... Bless!

The CBB bikini babes head out to the hot tub

Enjoying the hot tub.

The CBB boys get down to work in the gym

Natalie is probably wondering if she can pick that lovely white bobble hat down Walford market ... most likely she is more concerned with the CCB tasks ahead

Nice pajamas Denise.

Michael Madsen and Romeo Dunn form a new bromance.

Natalie in the diary room.

Natalie kisses Frankie.

Natalie gets to know the twins.

Nicola McClean and Natasha Giggs make up.