The Weekend Poem: 'A Boat Beneath A Sunny Sky' By Lewis Carroll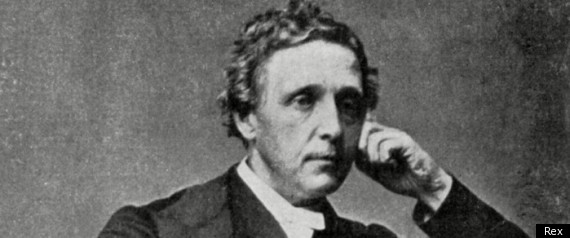 This has been the week that Lewis Carroll, author of Alice's Adventures in Wonderland, was born in 1832 - meaning he'd be the grand old age of 180 if he was still alive.
In a sense of course he is. Like all great writers, he's finest work rendered him immortal. Alice, the Cheshire Cat, the Queen of Hearts and the rest of Carroll's cast still loom large in our imaginations, enjoying yet another remake in the form of Tim Burton's 2010 film.
Carroll the poet is best known for a pair of nonsense poems - The Hunting of the Snark and Jabberwocky. However he also used verse to add texture and - in some cases - mystery to his stories, including Alice.
A Boat Beneath A Sunny Sky

A boat beneath a sunny sky,
Lingering onward dreamily
In an evening of July--

Children three that nestle near,
Eager eye and willing ear,
Pleased a simple tale to hear--

Long has paled that sunny sky:
Echoes fade and memories die.
Autumn frosts have slain July.

Still she haunts me, phantomwise,
Alice moving under skies
Never seen by waking eyes.

Children yet, the tale to hear,
Eager eye and willing ear,
Lovingly shall nestle near.

In a Wonderland they lie,
Dreaming as the days go by,
Dreaming as the summers die:

Ever drifting down the stream--
Lingering in the golden gleam--
Life, what is it but a dream?
The significance of this poem lies less in its content, and more in its connotations.
An acrostic poem - one in which the first letter of each line spells out a word - A Boat Beneath A Sunny Sky has been read for years as a tribute to Carroll's young muse Alice Pleasance Liddell, who inspired his famous protagonist.
Carroll met Liddell when she was a child in 1855, after befriending her elder brother. Her influence over his work, including this poem, gave rise to one of the more unpleasant theories in literary history - that Caroll was in some way sexually or romantically attached to Liddell. It's an idea that, though entirely unproven, has led fans and academics to search Carroll's work for darker undertones or symbolism ever since.
A Boat Beneath A Sunny Sky will forever be defined by the Carroll-Liddell debate, but stands alone as a self-contained example of the author's remarkable gift for imagery and musicality of language.
The verse:
Long has paled that sunny sky:
Echoes fade and memories die.
Autumn frosts have slain July.

Is as beautiful an evocation of the melancholy of the changing seasons as you're likely to find in English literature and the poem overall has the dreamy texture that is the hallmark of Carroll's work, at once precisely of this world and completely apart from it.