London 2012 Olympic Sculptures: Why Are We Tearing Them Down Already?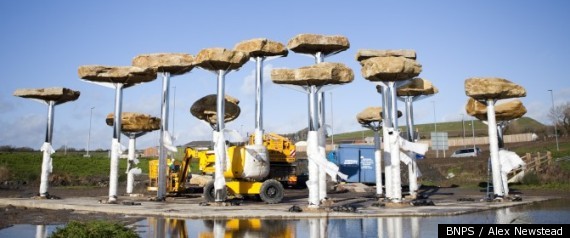 Six months to go until the Olympics, and much of the country is hard at work practising our national sport: moaning.
The imminent arrival of hundreds of thousands of extra tourists, the cynical corporate tie-ins, the peculiar official mascots and the cost – especially the cost – have all been excuses for a great British gripe ahead of London 2012.
And now, it looks as though we're turning our targets on the artistic aspirations of the ceremony, as two new Olympic sculptures are being ripped apart before they're even finished.
Unsurprisingly the Daily Mail is leading the charge, questioning whether spending £335,000 on a single sculpture in Weymouth is wise in the backdrop to an alleged 10 times increase in the cost of the Games.
Elsewhere, local newspaper the Camden New Journal is reporting that Primrose Hill, a local beauty spot with stunning views over London, will feature a 30ft replica of De Janeiro's statue of Christ The Redeemer to mark the handing over of the Games to Rio for 2016.
In both cases, outraged message boards users and locals are quoted.
Richard Harris's incomplete Weymouth sculpture is already "rubbish" and looks more like "something from Day of the Triffids" while the Christ the Redeemer replica, still only a proposal, has already been dismissed as "unsuitable for the area", according to one grumpy resident.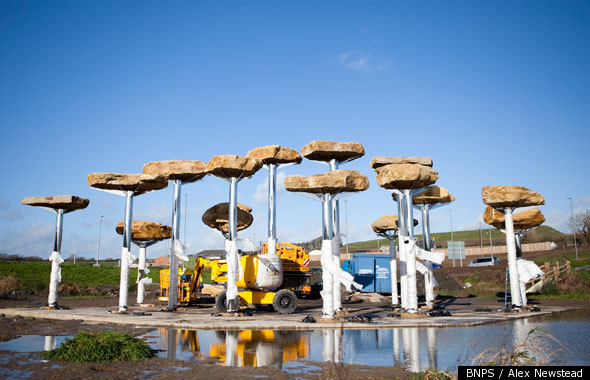 Jurassic Stones by Richard Harris, still incomplete

But surely, like our attitudes towards the Games themselves, all this cynicism will fade away when the summer finally arrives?
Since the 70s Richard Harris has built a strong career as an artist by creating public sculptures that resonate with their specific geographies. His previous works in Britain, particularly Wolverhampton's We Live Between Water And Sky (2002) are stunning examples of modern steel architecture that blend beautifully into their environments.
Jurassic Stones is intended as a welcome for motorists making their way to Olympic sailing events but, long after the Olympic circus has been and gone, the 15 raised stones will surely come to serve as a welcome to the region itsself.
When Anthony Gormley's Angel of the North was first being erected along the A1 entrance to Gateshead, locals and art critics alike were united in declaring it an "eyesore" and a "monstrosity". Local councillors led campaigns to try and have it pulled down, and dismissive asides about "that rust bucket" were common currency on Tyneside.
Yet by 2008, 10 years after it was finished, the Angel had been embraced as the area's signature, beating St Paul's Cathedral to top a survey of the UK's most recognisable landmarks. As Harris hopes will prove to be the case for Jurassic Stones, Gormley's sculpture now delights visitors and returning Geordies alike. And it cost £800,000, to Jurassic Stone's £335,000.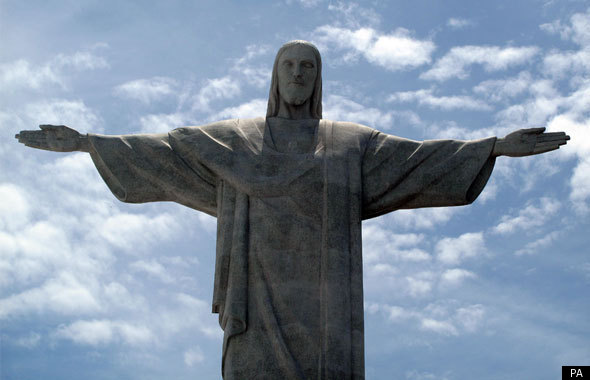 Christ the Redeemer, which may be replicated in London for the games

As for Primrose Hill - if the plans for the Christ the Redeemer replica go ahead, it will represent the passing of the baton from one host country to the next, a potent act of symbolism that serves as a gesture of global unity. Unlike the Weymouth sculpture, this won't cost Britons a penny - it will be a temporary gift from the Brazilian government.
More importantly, it will direct the world's attention to one of the most beautiful spots in London. The knee-jerk reaction from local residents may be to say they don't want more visitors to their area, but under the admiring gaze of a billion people, surely they'll feel just the slightly twinge of pride, even if they refuse to admit it?
An event as gargantuan and complex as the Olympic Games will inevitably come with its drawbacks, mistakes and costs.
But just as inevitably, the ambitious cultural program and sporting competition alike will produce its moments of triumph and leave behind some legacies we'll be thankful for for generations.
What a shame it's in our national character to focus so hard and long on the former, and only see the latter when it's finally there, towering above us, forcing us to change our minds.