Peta Protester Sophie Barratt Strips Off For Vegetarianism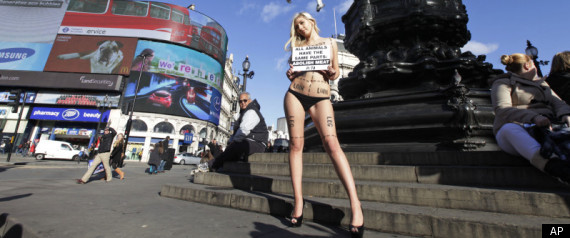 Sophie Barratt, crowned Europe's sexiest vegetarian by Peta (People For the Ethical Treatment of Animals) protested against eating meat, strutting round central London wearing only a pair of skimpy knickers and heels on Thursday
Butcher's markings, traditionally drawn on animal posters to show the different cuts of meat, were inked on her body, as she marched round Piccadilly Circus holding a plaque.
"All animals have the same parts, abolish meat" read her Peta sign, held strategically over her chest.
Police were soon on the scene with a helpful robe, asking Barratt to cover up. However she continued to pose for the cameras bearing her plaque. Cheese sandwich for lunch anyone?