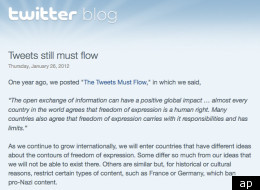 Twitter, the social networking site used by millions across the world, will begin to restrict its tweets. In a blog titled "Tweets still must flow" , Twitter announced that it may need to withold tweets in certain countries as it begins global expansion plans.
"Starting today, we give ourselves the ability to reactively withhold content from users in a specific country while keeping it available in the rest of the world," Twitter said in a post on 27 January.
If a tweet is restricted, a grey box will pop up on the feed: "Tweet withheld,"it would read "This tweet from @username has been withheld in: Country."
It's a marked shift from a year ago, when Twitter posted a blog in the early stages of the Arab Spring. Their stance at that time was focused on the pioneering role that Twitter used the blog to promote free communication.
"Our position on freedom of expression carries with it a mandate to protect our users' right to speak freely and preserve their ability to contest having their private information revealed."
However this year's Twitter blog is far more careful, curious given Twitter's historical legacy for being used in countries rife with repression. Their position on censorious nations is clear:
As we continue to grow internationally, we will enter countries that have different ideas about the contours of freedom of expression. Some differ so much from our ideas that we will not be able to exist there"
Twitter was most famously used to organize political change during the Arab Spring, so much so that Google launched a voice to Twitter service to help suffocated communication in Egypt.
In Mexico, Twitter is used to warn others of gang violence and illuminate the organised crime that the media is too scared to report.
Riot Clean Up in London was organised via twitter, although the August disturbances also proved that social media can be used for more disruptive purposes.
Twitter has pledged that though some tweets will be removed when they breach laws in one country, they will be able to be seen from elsewhere. It uses the example of Germany and France where laws ban pro Nazi content being broadcast. However, Mark Gibbs points out in a blog article for Forbes, if an algorithm is used to detect pro-Nazi tweets, will it pick up sarcasm?
Twitter's promised to continue to support free speech, and alert users whenver it witholds something and why.
"We try to keep content up wherever and whenever we can, and we will be transparent with users when we can't. The tweets must continue to flow."
However some users are so angry they have pledged to boycott the social networking site on 28 January. Hashtags #TwitterBlackout" and #TwitterCensored are being used to complain of the new policy. Facebook and Google already employ policies similar to Twitter's micro censorship