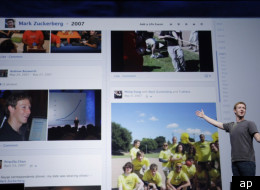 Facebook's Timeline feature will switch on this week, displaying all your status updates and photos as far back as 2004.
While there's no definitive date for the roll out, every Facebook user will receive notification at the top of their profile page, alerting them to the switchover.
Users will then have seven days to delete embarrassing, or just plain dull, content from their Facebook profile before it's shared front and centre in the new profile design.
Every Facebook change generates wildly varied support or disdain from users, and the Timeline update is no different.
A study by internet security firm Sophos found that only 8% of Facebook users like the changes to their profile, while 51% said that they were "worried" by the new look.
Facebook users have taken to that other hugely popular social medium, Twitter, to vent their frustration or share the love.
@chapeltom writes "I agree about website redesigns. I absolutely hate it when things change. Am I scared of change? No I like continuity."
One Twitter user, @torieebrown, tweeted her disappointment, and the true reason behind her dislike of Timeline: "hate the new "timeline" on Facebook! you can't really creep."
@agecaves piped up as the voice of reason, tweeting: "I don't get why people hate Facebook Timeline, you're not going to be looking at your own profile all the time. Get over it."
Facebook Timeline has been available to Facebook users with a developer profile since December 15.
Facebook insists that the change does not affect users' privacy.
What do you think of Facebook Timeline? Let us know in the comments below.