Tulisa Parties With The Saturdays But Leaves Early To Avoid Chloe Green Spat
That poor lamb Tulisa must be going through the mill after her relationship with N-Dubz bandmate Fazer ended. She's probably spent her time sitting in her PJs, eating ice cream and watching Bridget Jones... Hang on, wait a minute...
Nope, the X Factor judge has been out on the razz again, and this time she has enlisted some celebrity chums to dance the night away with.
Tulisa has been spotted on various nights out since the news of the split was revealed last week, and on Saturday night she was out on the tiles again - this time with The Saturdays' Vanessa White and Rochelle Wiseman.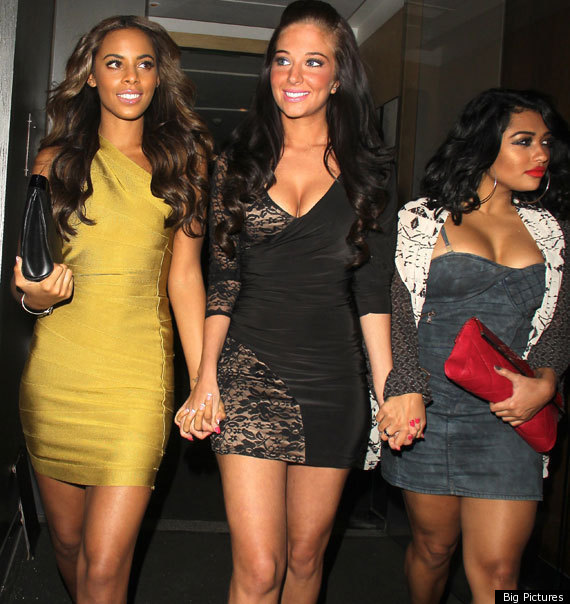 The girls glammed it up for their night out, with Tulisa donning a floral LBD to show Fazer exactly what he was missing. But the orange hue she has been sporting of late is showing no signs of fading.
The trio dined at London's exclusive Nobu Berkeley restaurant before heading to Movida Nightclub for a night of fun.
But it was cut short when Tulisa spotted her nemesis, Topshop heiress Chloe Green partying with her friends at the same club.
Tulisa made a dash for it after spotting the Made In Chelsea star, leaving the club to avoid a confrontation.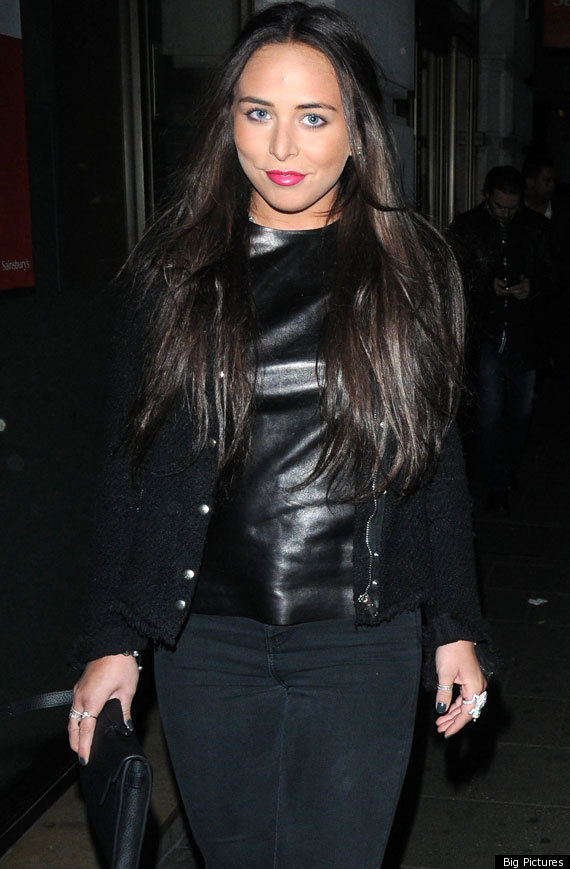 Speaking to The Mirror, a source close to the X Factor star said: "Tulisa was having a really fun night with her girls. After dinner, and several drinks, they moved on to Movida and were having a great time dancing and being really silly. Tulisa was in fine form.
"But when she spotted some of Chloe's posse, the gang decided to move on. The last thing Tulisa needed was to waste her breath arguing. So her group swiftly legged it to nearby Jalouse."
The pair previously came to blows after the talent show judge ordered Chloe away from her VIP table at London's Whisky Mist.
And only last week, Tulisa was reported to be maddened after Fazer partied with the retail princess two nights in a row, so Tulisa would have been in no rush to make small talk with the star on Saturday.
"Tulisa and Chloe are from different worlds and will never be best buddies," the source told The Mirror. But when she's had a drink, Tulisa knows what she's like. She decided not to risk 'having a word' and left before Chloe made her entrance."
TIRED AND EMOTIONAL CELEBS:

Loading Slideshow
Tired And Emotional Celebs

Tara Palmer Tomkinson

Tired And Emotional Celebs

Sharon Osbourne

Tired And Emotional Celebs - Helen Flanagan

Tired And Emotional Celebs

Carol McGiffin

Tired And Emotional Celebs

Zara Phillips

Tired And Emotional Celebs

Charlotte Crosby

Tired And Emotional Celebs

Harry Styles

Tired And Emotional Celebs

Kate Moss

Tired And Emotional Celebs

Lauren Goodger

Tired And Emotional Celebs

Tulisa

Tired And Emotional Celebs

Courtney Stodden

Tired And Emotional Celebs

Jay McGuiness

Tired And Emotional Celebs

Fearne Cotton

Tired And Emotional Celebs

Goldie Hawn

Tired And Emotional Celebs

Chloe Sims

Tired And Emotional Celebs

Nicola McLean

Tired And Emotional Celebs

Janice Dickinson

Tired And Emotional Celebs

Pamela Anderson

Tired And Emotional Celebs

Claudia Winkleman

Tired And Emotional Celebs

Frankie Essex

Tired And Emotional Celebs

Lauren Goodger

Tired And Emotional Celebs

Ashley Roberts

Tired & Emotional Celebs - Una Healy (The Saturdays)

Pic: Big Pictures

Tired & Emotional Celebs - Aisleyne Horgan Wallace (Big Brother)

Pic: Big Pictures

Tired & Emotional Celebs - Amelle Berrabah (Sugababes)

Pic: Big Pictures

Tired And Emotional Celebs

Kate Moss

Tired & Emotional Celebs - Amy Childs

Pic: Big Pictures

Tired & Emotional Celebs - Caprice

Pic: Big Pictures

Tired & Emotional Celebs - Cheryl Cole

Pic: Big Pictures

Tired & Emotional Celebs - Cilla Black

Pic: Big Pictures

Tired & Emotional Celebs - Denise Welch

Pic: Big Pictures

Tired & Emotional Celebs - Denise Welch

Pic: Big Pictures

Tired & Emotional Celebs - Diana Vickers

Pic: Big Pictures

Tired & Emotional Celebs - Goldie Hawn

Pic: Big Pictures

Tired & Emotional Celebs - Janice Dickinson

Pic: Big Pictures

Tired & Emotional Celebs - Jessica Wright

Pic: Big Pictures

Tired & Emotional Celebs - Katie Price

Pic: Big Pictures

Tired & Emotional Celebs - Katie Waissel

Pic: Big Pictures

Tired And Emotional Celebs

Harry Styles

Tired & Emotional Celebs - Lindsay Lohan

Pic: Big Pictures

Tired & Emotional Celebs - Mark Wright and Jack Tweed

Pic: Big Pictures

Tired & Emotional Celebs - Nicola McLean

Pic: Big Pictures

Tired And Emotional Celebs - Robert Pattinson

Pic: Big Pictures

Tired & Emotional Celebs - Tracey Emin

Pic: Big Pictures

Tired And Emotional Celebs

Jay McGuniess