Tonight's TV Pick: Tuesday 31 - 'Terror At Sea', 'Alex Polizzi', 'Prisoners' Wives' 'My Child The Rioter'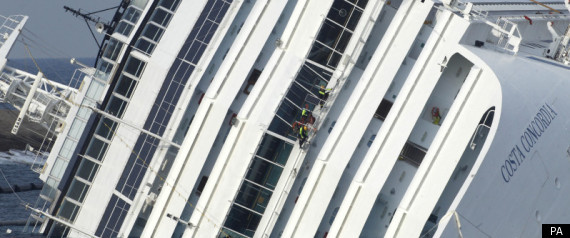 Tonight is one of those 'change to the schedule' evenings, prompted by the shocking events two weeks ago, when the world watched as a luxurious cruise liner sank slowly into the water. The programme exploring why this happened is one of our TV picks:
Terror at Sea - 8pm, C4
"Tripped and fell into a life boat" will be emblazoned on the gravestone of Captain Francesco Schettino, after his infamous role in the sinking of the Costa Concordia on Friday 13th January - which proved more than unlucky for many.
This swiftly-produced documentary, put together with footage taken on the night the floating party town became a deathtrap, hears from rescuers and survivors and explores just why the ship went down as quickly as it did.
Alex Polizzi: The Fixer - 8pm, BBC2
She's only the latest entrepreneur to lend their skills to business improvement while the cameras watch, but Alex Polizzi has a few traits that set her apart: she is a striking woman, NOT propped up by reality TV fame, she has Forte family genes which means she recognises the smell of success, and she has a telegenic way with words, which makes for fly-by viewing. This week, a bridal shop needs to stop shooting itself in the foot.
Prisoners' Wives - 9pm, BBC1
Emma Rigby has forsaken Hollyoaks to star in this BBC drama that does exactly what it says on the tin - brings together women of different classes, ages and attitudes, united by their husbands' current Majesty-pleasure-serving status. I think we can prepare ourselves for betrayal and tears.
Wonderland: My Child the Rioter - 9pm, BBC2
What would you do if you discovered your child was one of the hundreds of young people who, in August, took advantage of the unusual situation in London to steal stuff, break stuff and set fire to buildings? The parents in Olly Lambert's documentary have had to answer that question for themselves and come up with a variety of answers, ranging from disbelief, shame to wholehearted support. A compelling slice of London life today.