Angry scenes broke out in Buenos Aires, where a group of masked protesters took to the streets and threw paint at a British bank.
William arrived in the archipelago yesterday ahead of a tour of duty as an RAF search and rescue pilot.
The Ministry of Defence (MoD) said the posting was part of a "routine operational deployment", despite Argentina likening it to that of a "conqueror".
Tensions have risen between the two countries in the past week following the announcement that one of the Royal Navy's most advanced new warships is being sent to the area.
HMS Dauntless, a Type 45 destroyer, is due to set sail for the South Atlantic on her maiden mission in the coming months to replace frigate HMS Montrose.
William will attend a series of briefings and take part in a "familiarisation flight" before he begins his search and rescue work in the remote outcrop, known in Argentina as Las Malvinas.
An MoD spokesman said: "MOD can confirm Flight Lieutenant Wales, as part of a four-man Search and Rescue (SAR) crew, has arrived in the Falkland Islands on a routine operational deployment and will shortly take up SAR duties post a period of briefings and a familiarisation flight."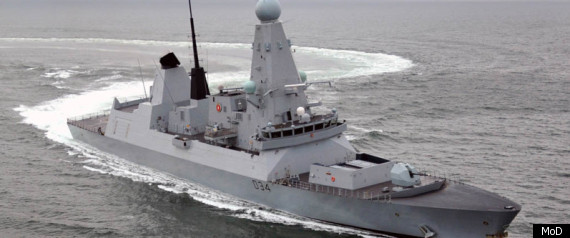 HMS Dauntless
Vice-president Amado Boudou told the country's La Red radio station that the move was a case of "bravado" to mask high unemployment and the prospect of Scottish independence.
In the latest salvo, the country's Foreign Ministry said it "rejected the British attempt to militarise (the) conflict" and expressed regret that an heir to the throne would arrive wearing "the uniform of a conqueror".
David Cameron and Argentine president Cristina Fernandez have previously accused each other of "colonial" behaviour, while Argentine official Sebastian Brugo Marco last year said the country could not ignore the "political" implications of William's deployment.
General Sir David Richards, Chief of the Defence Staff, dismissed the claims, saying: "I can absolutely tell you it wasn't and isn't designed to be."
William, who has worked as a Sea King pilot while based at his north Wales home on Anglesey, is following in the footsteps of his younger brother, Prince Harry, who was sent to Afghanistan as a forward air controller in 2008.
While her husband is abroad, the Duchess of Cambridge will have a new male cocker spaniel puppy for company.
Kate will carry out her first solo public engagement next week, visiting the National Portrait Gallery (NPG) in London on Wednesday followed by a trip to Liverpool on Valentine's Day.
In the movie, Thatcher is shown ordering the sinking of the Argentine warship Belgrano, which killed 323 sailors and remains controversial because the ship was considered to be outside the war zone.

SUBSCRIBE TO & FOLLOW UK DAILY BRIEF