Diamond Jubilee Whisky Goes On Sale For £8,000 A Bottle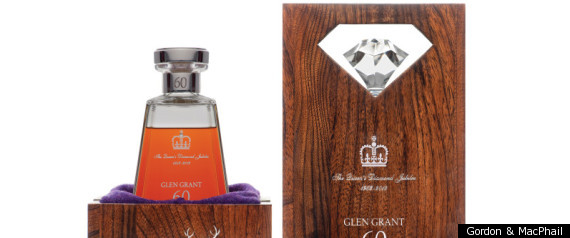 A 60-year-old rare bottle of Glen Grant whisky is to be sold to mark the Queen's Diamond Jubilee next year, costing a whopping £8,000 a bottle.
The ageing single malt, which was distilled on 2 February 1952, just four days before the Queen acceded the throne, was bottled on the same day this year, making it exactly 60 years old.
To celebrate it coming of age, whisky specialist Gordon & MacPhail is selling 85 bottles of the celebratory drink.
Gordon & MacPhail's joint managing director Michael Urquhart said: "Glen Grant 60 Years Old is a rare single malt whisky and we are delighted to be releasing it to mark the celebration of Queen Elizabeth II's Diamond Jubilee.
"With whisky of this quality and rarity – each bottle comes with a certificate of authenticity – we expect considerable interest, not just in the UK, but from the international marketplace where recent export figures have shown we have an avid consumer following.
"In producing the packaging for this remarkable single malt we worked with Scottish craftsmen, allowing us to showcase some of the finest talent in the country."
The drink has "aromas of Cox's Pippins and Granny Smith apples", laced with cinnamon and root ginger. The bottle comes in a pyramid-shaped crystal decanter adorned with a diamond-shaped stopper. Each decanter will be engraved and uniquely numbered.
Adding to this impressive bottle of whisky, the special addition drink will also be packaged in a hand-crafted box made of Scottish Elm, felled a short distance from the Queen's Scottish residence, Holyrood House.
The Gordon & MaPhail's pricey bottle of whisky follows another extravagant tipple from John Walker & Sons, which is selling 60 bottles of its rare whisky at £100,000 a piece.
Profits from the limited-edition whisky, produced in Scotland by drinks company Diageo, will be donated to the Queen Elizabeth Scholarship Trust (QEST).
David Gates, from John Walker & Sons says: "John Walker & Sons was first awarded a Royal Warrant in 1934 by King George V. We are extremely honoured that the quality of our whiskies is recognised by this symbol and our commitment to this calibre of quality and service is unwavering.
"Today in 2012, we are privileged to be able to celebrate The Queen's remarkable achievement with this fitting tribute, Diamond Jubilee by John Walker & Sons, the sales of which will help to create an enduring legacy for the supreme craftsmanship that it represents."