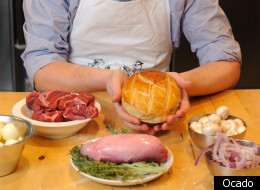 They say the way to a man's heart is through his stomach so why not spoil the object of your affections with this Valentine's Day an 'aphrodisiac' pie - complete with 'libido-boosting' bull testicles?
Online supermarket Ocado has teamed up with artisan ready-meal brand, Charlie Bigham, to create the "world's first lust-enhancing aphrodisiac pie", packed full of supposed "sexually stimulating ingredients".
The ingredients of the aptly named 'Cock and Bull Pie' include 'Mama Juana' liquor, a well-known aphrodisiac from the Dominican Republic (known as the 'liquid viagra' in some parts of the world) made of rum, red wine, bark and herbs.
However, the main ingredient of this £7.99 passion pie lies with the bull's testicles, which are marinated in the 'Mama Juana' with a hint of Ginseng. The pie's gravy is gently infused with slow-cooked bull juice.
Rich in testosterone, bull testicles are eaten in India, where people swear by its power to increase sexual vigour. In China, couples claim that bulls' balls are more powerful than Viagra when it comes to spicing things up in the bedroom.
Talking about his limited edition Valentine's pie, the brand's founder Charlie Bigham, says: "Having specialised in 'twosome' cuisine for over 15 years, we understand what it takes to bring partners closer together.
"After a busy day at work, couples are often too tired to cook, which is why we have developed the romantic Valentine's version of our popular pies, taking the stress out of cooking this Valentine's.
"The Cock and Bull pie will give partners the opportunity to ditch the asparagus and oysters this year and create that perfect 'twosomes' moment with our one-off passion inducing pie."
"The taste bud-tickling recipe is a sure fire way to rekindle feelings of desire across the nation. It got hearts racing with our taste testers, several of whom were so overcome with lust and amorous feelings they had to be sent home! Never before have we created a dish that has caused as much fervour."
'Cock and Bull' pies are available from Ocado from 11 February.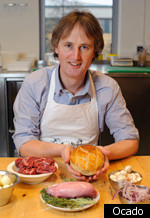 If you're looking for natural ways to boost your libido without having to tuck into this testicle pie, take a look at these aphrodisiac fueled foods.
Alternative Valentine's Day Gifts
Cute but not clichéd, this personalised jigsaw pinpoints the place where you first met your other half. Chose from the 'landranger' format or 'aerial' look and watch your partner's heart melt as they cast their mind back to the night you met at the kebab shop. We First Met Here Postcode Puzzle, £29.99, Firebox.

Swinging upside down together from ropes is not as kinky as it sounds. But this adrenaline-packed bungee jump is certainly guaranteed to make your heart skip a beat. The package includes a bottle of champagne to congratulate yourselves/calm your nerves afterwards, plus a DVD to immortalise the moment. Lovers bungee jump, £120, Wish.co.uk.

Be the sexy protagonists in your own personalised erotic novel. The book contains personal details - from names, eye colour to nipple colour, while narratives go from sensual to scorching hot. Personalised erotic novel, £24.99, Prezzybox.

Forget a bunch of the finest flowers from the local petrol station... Art lovers will love with these colourful buds from the National Portrait Gallery, inspired by individual masterpieces from the gallery's most famous collections. Each bunch comes with a gift card featuring the inspired arrangement. The roses (pictured) are inspired by a Renaissance painting from Bacciaccha. Renaissance colours roses bouquet, £55, The National Gallery.

They say the way to a man's heart is through his stomach - so why not treat him to an 'aphrodisiac' pie to get the passions burning. The catch? Its secret 'libido-boosting' ingredient is bull testicles. Well, it's less clichéd than heart-shaped chocolates... Charlie Bighams Cock & Bull pie, £7.99, Ocado.

Make your other half go starry eyed by naming one after them. Simply request the name and you'll get a framed certificate with proof of their namesake star. Name a Star, £26.91, Find me a gift.

Find out how well you really know each other with this 'Mr & Mrs' game based on the TV show. Mr & Mrs game, £11.99, Amazon.

Have the geographical coordinates of the exact spot you both met immortalised in the form of a stylish, graphic print. It's romantic but so subtle only you and yours will know what it means. Personalised Coordinate print, from £25, Notonthehighstreet.

This saucy game makes for a quirky alternative to sex toys and red lingerie. Create coded messages and indulge in 'Double O Heaven' missions. Nookii Confidential game, £24.99, Nookii.