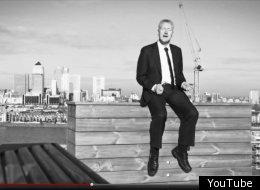 Former MP Lembit Opik has appeared in a music video for The Good Suns.
Dressed in a suit, Opik mouths the words to the band's latest offering – Pop Wound – while dancing wildly on a London rooftop.
As Opik's shapes heat up, the 46-year-old throws in some "aeroplane" moves, while tapping his feet and clicking his fingers.
Reactions to his performance have varied from encouraging to the downright rude, with one YouTube user going so far as to query the state of Opik's mental health.
The Good Suns announced the release of the video yesterday, dubbing it their "must-be-seen-to-be-believed" offering.
Since losing his seat for the Welsh constituency of Montgomeryshire in 2010, Opik appeared on I'm A Celebrity Get Me Out Of Here and made an unsuccessful foray into stand-up comedy.
The Welshman apparently has an eye for the ladies, and made the headlines after becoming engaged to Cheeky Girls popstrel Gabriela Irimia. He was recently linked to Wonderbra model Katie Green.
@Markfergusonuk

Mark Ferguson
@aj_hudson

Alex Hudson
@lizlangtonjames

Liz James
Just tried to watch the Lembit Opik pop video. Had to stop it half way through. I was involuntarily blushing at how bad it is.
#shudder
@PSbook

Political Scrapbook
@Jessica_Asato

Jessica Asato
The song isn't bad, but who in their right mind thought putting Lembit in the video was a good idea?
http://t.co/0E9Gv5Bf