A picture of married Costa Concordia captain Francesco Schettino sharing a meal of oysters with blonde dancer Domnica Cemortan has emerged in the Italian press.
The intimate snap, featured on the cover of Chi magazine, is of the pair enjoying a meal in Villefranche-sur-Mer on the Cote d'Azur around a month before the shipwreck, which killed 17.
Last week Cemortan reportedly told investigators she was "in love" with the 52-year-old. The 24-year-old had initially denied any romantic involvement with him, but reportedly admitted her feelings after divers found her lingerie in his cabin.
Other items of her clothing and a makeup bag were also found among his belongings, the Times said.
She reportedly told them: "I was on the bridge because I was in love with the captain. I found him charming and fascinating. I love him.
"I was on the bridge as his guest. It's not right that his image is being destroyed."
But in an interview with Oggi magazine published today, she denied the claims.
She said: "They are all lies. I wasn't born yesterday. The information was put out to put pressure on the captain. They want to isolate him, even from his family.
"I never said to magistrates 'I love Schettino'. They say they've found my bikini in his cabin. What have they found on this bikini that connects it to me? Was my name written on it, was there my photograph, or my DNA?"
Schettino has remained under house arrest since the incident and the ship remains partially submerged off the coast of Giglio.
Officials plan to remove about 500,000 gallons (2,400 tons) of heavy fuel from it, but that has been delayed by rough seas and bad weather.
Once the fuel is withdrawn, the massive ship will be broken into pieces and taken away – a process that could take many months, AP reported.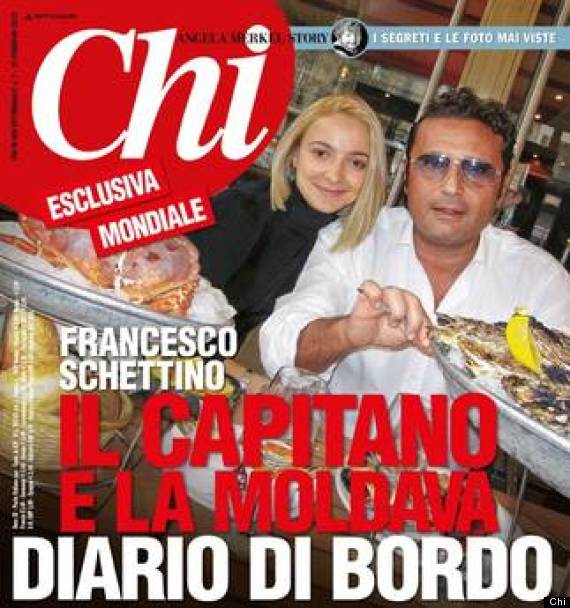 SUBSCRIBE TO & FOLLOW UK DAILY BRIEF