Gary Barlow Signs Up Elton John, Dame Shirley Bassey, Cliff Richard For Queen's Diamond Jubilee Concert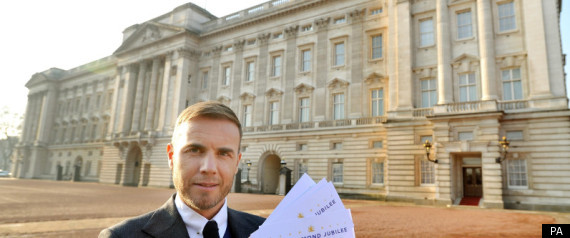 Singer Gary Barlow signed up a wide range of musicians to perform at The Queen's upcoming Diamond Jubilee concert in London to mark the 60 years she has spent on the throne.
Legends including Sir Elton John, Dame Shirley Bassey and Sir Cliff Richard will perform during the Buckingham Palace celebration, while pop newcomers Jessie J and Ed Sheeran are also set to take to the stage.
Barlow, who is helping to organise the show, handpicked the artists to appear - and he insists music from throughout the Queen's time as monarch will be played at the concert.
Speaking on The One Show, he says: "What we're trying to do on (sic) this concert is give every decade of her reign a chance to be heard musically, so we'll be doing music from the 50s, 60s, right the way through to now."
But Barlow is remaining coy about rumours his band Take That will perform.
He adds: "Nothing's been decided yet but over the next couple of months we're releasing more acts we're adding to the bill, so you'll have to wait and see."
The Diamond Jubilee Concert will take place on 4 June.