Pandas Tian Tian And Yang Guang Go Climbing
Pandas don't only eat shoots and leaves, they also... climb! At least if the UK's only giant pandas Yang Guang and Tian Tian are anything to go by.
The Scottish pandas have now been showing off their climbing skills after keepers gave them new toys to play with.
Male panda Yang Guang was said to be especially delighted to discover the frame in his enclosure this morning, which staff at Edinburgh Zoo filmed and posted on YouTube.
The video clip shows the 18-stone animal deftly climb on to the frame and swing from the top by his back paws.
Staff at the zoo made the climbing frames especially for the pandas. Each frame has platforms, ramps and a roofed tree house.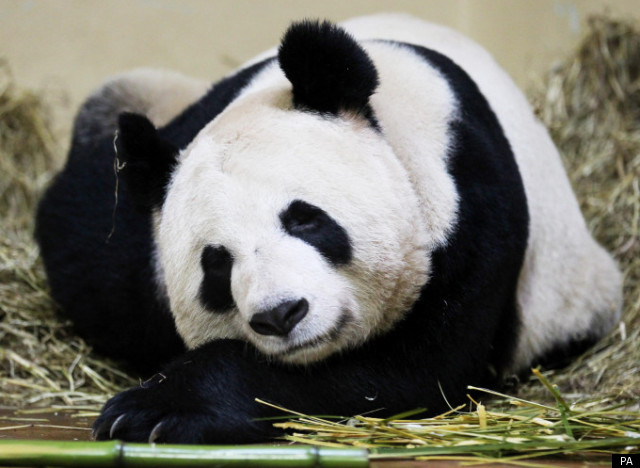 Tian Tian the panda was more reserved. Staff are used to seeing the pandas in more dozy positions
Alison Maclean, panda keeper at the zoo, said: "With little hesitation, Yang Guang bravely headed straight up on the roof of his tree house to explore.
"With curiosity to rival a cat, he smoothly manoeuvred himself to hang off the tree house, swinging head-first backwards and forwards, with only his back paws holding on to the roof above.
"Whilst rubbing his face with his front paws he looked like he was having a great time. But I must admit, I took a deep intake of breath at his boldness.
"Pandas are extremely agile, often climbing trees and getting themselves into positions that seem almost impossible to us.
"It was a brilliant moment seeing Yang Guang inspecting his new climbing frame and showing typical panda behaviour. He even rolled around on the tree house roof, tummy to the sun.
"We hope to see them dozing happily on their platforms as warmer weather comes to Scotland."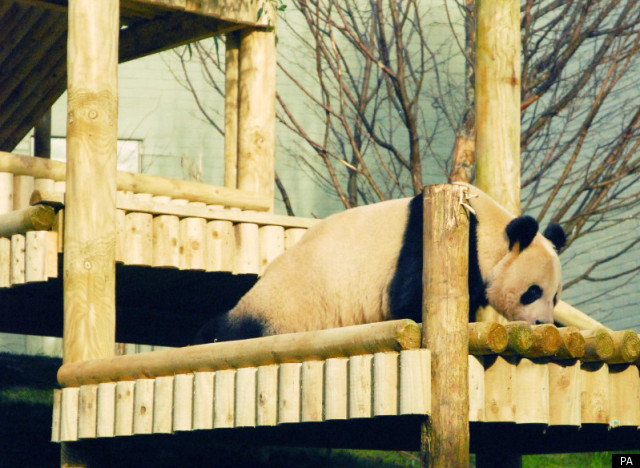 The male panda played on the wooden platform

Around 70,000 people have seen Tian Tian and Yang Guang since they were put on public display in December, more than three times the number which visited the zoo in the same period of 2010.
Tian Tian and Yang Guang only recently went back on public display after a bought of illness.
Yang Guang was removed from public view in early January because he had colic. Tian Tian, the female, was also taken off show with the same condition.
The pandas arrived in Edinburgh from Ya'an reserve in Chengdu, China, on 4 December. They went on show to zoo visitors for the first time on December 16 once they had acclimatised to their new surroundings.
Edinburgh Zoo will be the animals' home for the next 10 years and it is hoped the breeding pair - the first pandas in the UK for 17 years - will produce cubs during their stay.