Previously unseen footage of the chaos on board the Costa Concordia after it crashed into rocks, killing 17 people, has emerged.
The video was broadcast exclusively on Italy's TG5 news and reveals Captain Francesco Schettino on the bridge of the luxury liner, speaking on the telephone and seemingly oblivious to the confusion around him.
Crew members are heard pressurising the 52-year-old to officially evacuate the vessel as they begin to don life jackets in panic.
Around three quarters of an hour before the official "abandon ship" orders are given, one official is heard to say "Passengers are getting into the life boats on their own", to which a man believed to be Schettino replies "vabbuo", which translates as "whatever".
Italian investigators have demanded TG5 news hands the footage over.
Schettino was commanding the ship, carrying 4,200 people, of which 15 are still missing, when it ran aground off the Tuscan coast on 13 January.
Schettino has remained under house arrest since the incident and the ship remains partially submerged off the coast of Giglio.
The married father-of-one is also mired in a romantic controversy after he was reportedly spotted drinking and dining with a 25-year-old blonde dancer just before the shipwreck.
Domnica Cemortan has been linked to Schettino as far back as a month before the tragedy, after a picture of the pair enjoying a meal of oysters emerged in Italian gossip magazine Chi.
A fortnight ago, Cemortan reportedly told investigators she was "in love" with the 52-year-old. The 24-year-old had initially denied any romantic involvement with him, but reportedly admitted her feelings after divers found her lingerie in his cabin.
Other items of her clothing and a makeup bag were also found among his belongings, the Times said.
She reportedly told them: "I was on the bridge because I was in love with the captain. I found him charming and fascinating. I love him.
"I was on the bridge as his guest. It's not right that his image is being destroyed."
But in an interview with Oggi magazine published this week, she denied the claims.
She said: "They are all lies. I wasn't born yesterday. The information was put out to put pressure on the captain. They want to isolate him, even from his family.
"I never said to magistrates 'I love Schettino'. They say they've found my bikini in his cabin. What have they found on this bikini that connects it to me? Was my name written on it, was there my photograph, or my DNA?"
Officials plan to remove about 500,000 gallons (2,400 tons) of heavy fuel from the Costa Concordia wreckage, but that has been delayed by rough seas and bad weather.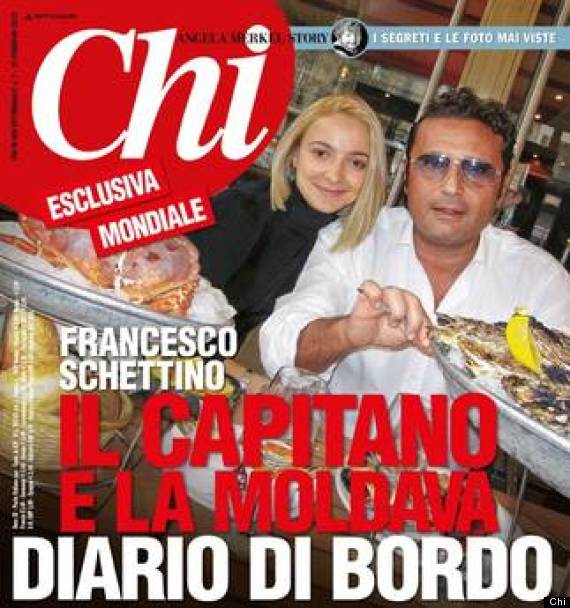 FOLLOW HUFFPOST