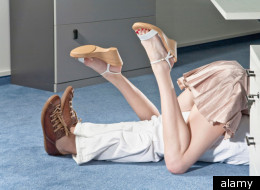 Forget alternative Valentine's Day gifts or bizarre presents they'd rather forget - tickle your Valentine's taste buds with foods that are loaded with aphrodisiac qualities and lidido-boosting ingredients.
But before you go ahead thinking we mean oodles of oysters, red wine and spices - think again, because aside from the obvious sex superfoods, there are plenty of other, and slightly weird, foods that can get you in the mood.
From 'Pot Kanoodles' to pungent fruits - check out what foods you should be sharing for two this Valentines' Day.
Bizarre Libido-Boosters From Around The World
Just like cocoa in chocolate, cheese contains the lust ingredient - phenylethylamine (PEA), one of the ingredients that gives chocolate its aphrodisiac reputation. These sweet but cheesy love balls from Clawson, are great served with champagne.

Packed with oodles of libido-boosting lobster, oysters, chilli and steak, this isn't your average Pot Noodle - it's a 'Pot Kanoodle' with plenty of spice.

According to research, the best lovers nut is the pistachio as it help boost blood flow... to all the right places, helping eradicate erectile dysfunction.

According to research, men get most turned on by the scent of... warm baked bread and in particular, doughnuts. These sexually tantalising smells claim to increase the blood flow to the penis by 40%. Pumpkin pie and lavender is another weird scent that gets guys into a fluster.

Although it's famous for it pungent scent and weird putrid texture, the durian fruit is said to have powerful fertility powers as it's packed full of oestrogen.

All coffee acts like a stimulant to the brain but there's one type in particular that really gets the heart racing. Popular in Vietnam, the civet coffee is considered the bet coffee to get the sense excited. The hook? The 'coffee' beans are in fact cherries that have been eaten, digested and 'passed' by a civet animal. They are then brewed and blended. It's the musky taste that is believed to get the juices flowing.

Flexibility, strong connective tissue and stamina are all important factors in maintaining a robust sex life, and one food that may have a positive effect on those joints is gelatin. Need we say anymore?!

Oozing with buttery pastry and exotic gravy, this 'passion pie' is complete with its large chunks of bull testicle to get those love juices flowing. Charlie Bigham cock and bull pie, from Ocado, claims to be big libido-booster... if you can stomach it!

Although a truffle's scent isn't the sweetest, the earthy smell does something to the senses and signals a message to the brain that it's in the mood for love. The precious fungi is so desirable in some places, it's banned from mosques in some religious places as it's considered "too corrupt".

The Malunggay tea is a humble plant with massive effects - a libido effect to be precise. Dubbed better at hotting up the loins than Viagra, this natural aphrodisiac is the best of its kind.