Boris Johnson Back On Top In Mayoral Polls Despite Monday Morning Tube Chaos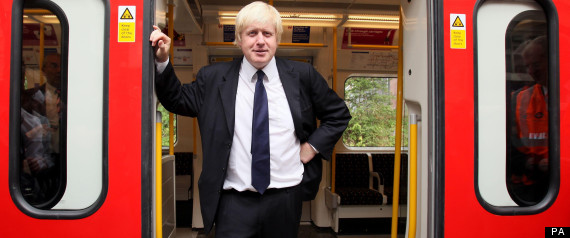 Boris Johnson has been accused of failing to manage London's transport system, after five underground lines sufferered severe delays and suspensions at the start of the working week. But the Monday morning misery for commuters coincides with a new YouGov poll showing the mayoral elections in May this year are still wide open.
Thousands of commuters suffered nightmare journeys to work after a series of problems on the London Underground.
To make matters worse, all the difficulties affected the north west area of the capital, with passengers seeking to avoid delays on one Tube line then facing delays on other routes.
The worst problem was on the Metropolitan line where late-running engineering work meant there were no trains able to run between Harrow-on-the-Hill and Aldgate.
A late finish to engineering work on the Jubilee line led to a suspension of services in the rush-hour between Stanmore and Willesden Green, with severe delays on the rest of the line.
Labour's London Assembly transport spokesperson, Val Shawcross said, 'This morning's tube delays and suspensions on the Bakerloo, Piccadilly, Victoria, Jubilee and Metropolitan lines are completely unacceptable. No wonder millions of Londoners who are facing daily delays and closures while paying sky high fares are increasingly demanding Boris Johnson gets a grip of London's transport system.'
London Underground chief operating officer Howard Collins said: "Engineering works to replace more than half a kilometre of track this weekend overran, which mean the Jubilee and the Metropolitan lines were part-suspended this morning."
There were still severe delays on the Metropolitan and Jubilee lines well past midday.
RMT transport union leader Bob Crow said: "Today's chaos is a reminder to commuters that cuts to maintenance and staffing are still a massive issue for passengers as we head towards the (London) mayoral election and the Olympics."
The YouGov poll out Monday shows a dramatic turnaround for the Tory mayor. In a poll on voting intentions, Johnson's favourability rose to 51, two points more than Labour's Ken Livingstone. Given the margin of error, the race between Johnson and Livingstone for City Hall is still too close to call.
A spokesperson for Ken Livingstone said:
"We do not provide a running commentary on polls, because the only poll that matters is on May 3rd, but it is absolutely clear that the Mayoral race is wide open."