Top Ten Games Of The Week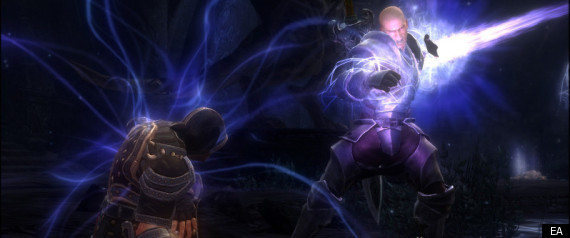 Who plays role play games? People who pay for games, that's who. EA's new Kingdoms of Amalur: Reckoning has launched this week straight into the number one spots.
The first game from indie designers, 39 Studios and the first time since March 2000 that a role play game has shot straight in to the top of the charts. The last was the first Pokemon game, Pokemon red.
Kingdoms of Amalur kicked last week's top game, Final Fantasy XIII-2 down to second place.
Another new game, Take 2's sequel The Darkness II, is third this week.
Metal Gear Solid HD Collection has slipped down to number four, down two spots.
FIFA 12 follows at number five, and Battlefield 3 is in at sixth.
Call of Duty: Modern Warfare 3 from Activision Blizzard is holding firm at number seven, Assassin's Creed: Revelations is down to eighth.
Bethesda's The Elder Scrolls V: Skyrim at No9 is still in the charts at ninth, while brining up the rear is Mario & Sonic at the London 2012 Olympic Games. That games has shot up from number 31 to 10 following the Nintendo 3DS release.
What games are you buying this week? Do you think enough people will pick up Kingdoms of Amalur to keep it at number one?
Kingdoms of Amalur: Reckoning