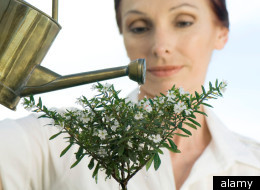 Group activities such as baking, gardening and music could improve symptoms for dementia sufferers, a study suggests.
The researchers analysed 15 trials on cognitive stimulation in 718 people with mild to moderate dementia or Alzheimer's disease.
About half of the participants received cognitive stimulation treatment (CST), involving structured activities - such as music gardening and baking - in small groups of four or five, several times a week.
CST treatment is designed to stimulate and engage dementia patients while providing the social benefits of a group.
The patients who received CST showed improvements in memory, thinking and concentration for up to three months after completion of the treatment.
However, there was no evidence to suggest an improvement in the mood of the patients or their ability to function independently.
Professor Bob Woods of Bangor University, who led the study, explained the difference between CST and repetitive 'brain-training' exercises.
He said, as reported in the Daily Mail: "This is not doing the same exercises over and over again by themselves."
He added: "There might be a session out of 14 which is devoted to word games and puzzles, and other sessions for reminiscing or doing something practical like baking a cake or gardening."
Dr Anne Corbett, Research Manager at Alzheimer's Society, said in a statement: "This significant review confirms that people with dementia respond positively to individual, person-centred care. By providing a range of creative and stimulating activities, it is possible to improve people's quality of life.
"We now need to understand whether the benefits continue over time and whether other types of support have similar benefits. There are 750,000 people living with dementia in the UK; nowhere near enough support is provided to meet their needs. Dementia research is also drastically underfunded. We must invest now."
Below outlines a number of studies conducted over recent months that have indicated that lifestyle changes can have a positive impact on the treatment of dementia and Alzheimer's disease.
A study at Mount Sinai School of Medicine found that decaffeinated coffee improves the brain's energy metabolism - linked to cognitive decline - in those with Type 2 diabetes. "This is the first evidence showing the potential benefits of decaffeinated coffee preparations for both preventing and treating cognitive decline caused by type 2 diabetes, ageing, and/ or neurodegenerative disorders," said lead researcher, Dr Giulio Maria Pasinett.

Everyday games, puzzles and tasks were able to postpone decline in cognitive function and the ability to carry out everyday tasks, in dementia patients, for at least a year, according to research from the University of Erlangen in Germany, published in the journals BMC Medicine.

Eating fewer calories could help boost memory and cognitive function, according to a study at the Catholic University of the Sacred Heart in Rome. Researchers hope to mimic the same effect with a drug in the future, bringing hope to Alzheimer's sufferers as well as those suffering from injury-related memory loss.

Researchers at the University of Pittsburgh Medical Centre and School of Medicine found that people who ate baked or grilled fish regularly reduced their risk of developing Alzheimer's. Reseracher Cyrus Raji said: "The results showed that people who consumed baked or broiled (grilled) fish at least one time per week had better preservation of grey matter volume on MRI in brain areas at risk for Alzheimer's disease."

Working out using virtual games such as the Wii Fit could slow cognitive decline in the over 50s, researchers from Union College in the US found. Participants aged between 58 and 99 were given a 3D exercise game to play. Compared to the control group who were asked to use a regular exercise bike, the 'cybercycle' group had a 23% decrease in advancement of mild cognitive impairment and showed improved 'executive function'.

A study in The Lancet Neurology suggest that 3m cases of Alzheimer's across the world could be prevented in seven simple ways. The report recommends quitting smoking, increasing physical activity, controlling your blood pressure and diabetes risk factors as well as managing depression and obesity to help combat the disease.