Bangkok Bomb Attack: Three Men Arrested On Suspicion Of Targeting Israeli Diplomats (Pictures)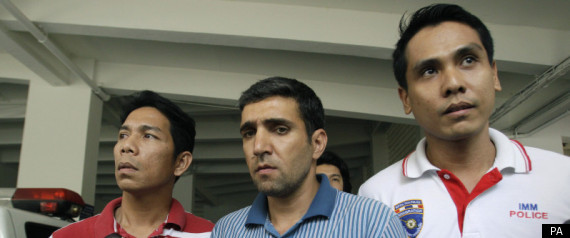 Three Iranian men have been detained by Thai Police on suspicion of targeting Israeli diplomats.
National police chief Priewpan Damapong confirmed the group's targets were "individuals, Israeli diplomats, not the Thai people".
The arrests follow Tuesday's attack in the Thai capital, which left five people injured, including the bomber, who lost his legs in the blast. The bomber has since been named as 28-year-old Saeid Moradi.
Mohammad Khazaei, 42, was also detained, while Masoud Sedaghatzadeh, 31, fled to Malaysia where he was arrested and now faces extradition back to Thailand.
Thai police are also hunting a woman, Leila Rohani, but authorities said she might have retuned to Iran. All four are believed to have lived in the house in the Ekamai suburb that exploded hours before Tuesday's attack.
Israeli officials have linked the Bangkok incident with twin-attacks on Israeli embassies in Georgia and India on Monday.
Israeli Prime Minister Benjamin Netanyahu subsequently condemned the attacks as the work of Tehran.
"Iran is a threat to the stability of the world. They are targeting innocent diplomats," said Netanyahu. "The international community has to denounce the Iranian actions and to indicate red lines concerning the Iranian aggression."
The accusation was swiftly denied by Iran's foreign ministry, who "condemned the blasts", adding that Israeli agents are often the perpetrators of such terrorism. CCTV images of the three men detained by Thai police
According to reports, Thai police believe some of the men were in the house during the explosion. All escaped, but Moradi was injured. After a taxi driver refused to pick him up, he threw a bomb at the driver.
The police were called and when they moved in to arrest him he threw a second bomb, which rebounded off a tree.
Four others were injured. The bomber is currently being treated in a Bangkok hospital.
Tensions between Israel and Iran have been escalating in recent months following rumours of an impending Israeli strike on Iranian nuclear facilities.
Last month, two Lebanese men, reportedly with ties to Hezbollah men were arrested in Thailand on suspicion of making a bomb.
Monday's attacks on the Israeli embassies followed a warning by the US against possible terrorist activity by the Iranian regime.
The blast in Delhi set a car on fire and injured four people, including a diplomat's wife. In Tbilisi, an embassy driver discovered a bomb on the underside of his car. No one was injured.
Shortly after the attacks in India and Georgia, Netanyahu said: "The elements behind these attacks were Iran and its protege, Hezbollah." He warned that Israel would "act with a strong hand".
Warning: Graphic Content Below