Manchester United Preview: Midfielder Paul Pogba Could Shine Against Ajax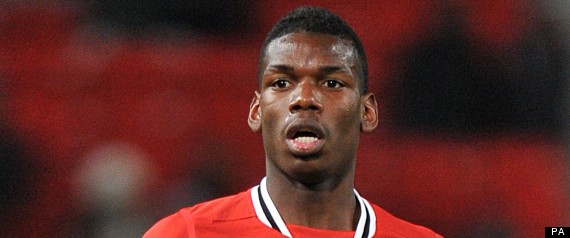 Ryan Giggs' Joy Division-inspired ditty "Giggs will tear you apart" was rejigged when Manchester United drew Ajax Amsterdam in the Europa League.
"Giggs is going to Amsterdam", aired a week before Christmas at Loftus Road, was terrace humour at its finest.
Alas the Welshman, much to wife Stacey's relief, has stayed at home in Cheshire after an exhausting period that has taken in starts against Arsenal, Liverpool (twice) and Chelsea. The 38-year-old's loss to the Reds' squad could however be youngster Paul Pogba's gain.
Pogba, like Tom Cleverley, has a huge amount of expectation to carry on his shoulders. Poached from Le Havre in 2009, the north French club claimed that United had done so illegally, but Fifa ruled that, because of his age, the second division side could not have got an agreement for Pogba to sign a professional contract.
And so to the October autumn and Crewe Alexander's Gresty Road where the Frenchman made his academy debut. Showcasing vision, flair, power and hitting a woodwork-shuddering strike, United fans now understood why Sir Alex Ferguson was so desperate to acquire his talents.
He excelled in the United youth team and was pivotal in the Youth Cup triumph last year, alongside fellow midfielders Ryan Tunnicliffe and Ravel Morrison. Tunnicliffe was loaned out to Peterborough United for the season by Ferguson, whereas Pogba and Morrison stayed at Old Trafford. A prodigious duo, they had outgrown reserve football before even sampling it and the Red Devils' notorious midfield malaise promised sporadic opportunities.
Tom Cleverley could make his return to the first-team fold after almost four months out injured:
@tomclevz23

Tom Cleverley
Just landed in a very windy amsterdam. Looking forward to my first visit to the amsterdam arena!
#mufc
The Red Army are their boisterous selves in Amsterdam:
@R_o_M

Scott the Red
Only the opportunities have been scarce. Morrison, as troubled as he is talented, left the club on the final day of the January transfer window, citing his frustration at a dearth of first-team chances. Pogba meanwhile is out of contract this summer and the vultures are circling voraciously. Chelsea, Manchester City, both Milan clubs and Juventus are all interested and a compensation package is a small price to pay for a precocious player.
Heartening for United fans dejected at Morrison's transfer was Pogba's cameo in the home match against Stoke City on the same day. The 18-year-old energised the side as United upgraded from ponderous to probing after his arrival which prompted many to query why a league debut was so overdue.
Its belatedness has not aided his contract situation. Games during the Christmas period against Wigan Athletic and Blackburn Rovers provided ideal opportunities to bed Pogba in to Premier League football, yet in the latter match Ferguson deployed Rafael da Silva (a fullback) and Ji-Sung Park (a winger) in midfield.
Even Darron Gibson, the bête noire of supporters and offered to Sunderland, was played ahead of the club's 'future'.
Should Pogba not start at the Amsterdam ArenA then his future at the Theatre of Dreams is as hazy as the Dutch capital's coffee shops.
For all Ferguson's protestations that United want to win the Europa League, it is a competition that he, his players and the supporters are nonplussed by. Thursday night on Channel Five is make-or-break for one youngster, as it would be inexcusable not to subject him to European experience when the risk factor is minimal.