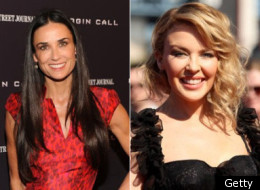 What do afterbirth, bee stings, leeches and bird poo have in common? They've all been smeared on the skin of the A-list in the name of beauty.
When a bizarre new beauty treatment or an off-the-wall anti-ageing fad hits the market, you know it's only a matter of days before its boasting a list of celebrity converts.
It would seem our favourite paparazzi princesses (and princes) will stop at nothing to look good for the cameras.
Just this week, it was reported that Simon Cowell has taken to inhaling fresh air (in the form of canned oxygen) in his ongoing pursuit of youth.
But can the elusive elixir of youth or the holy grail of flawless skin really be found in nightingale excrement or bottled fresh air - or do the creators of these 'magic' treatments spot their target market coming (down the red carpet) a mile away?
See our pick of the strangest celebrity beauty treatments and decide for yourself...
Bizarre Celebrity Beauty Treatments
Simon Cowell has never been shy about his ongoing efforts to stay young. The 52-year-old media mogul has openly admitted his use of Botox. But his latest anti-ageing fad sounds like a load of fuss about nothing. Literally. According to report, Cowell has been inhaling cans of oxygen. It is believed oxygen helps to flush out impurities from the body, clear the mind and reduce sluggishness.

Jennifer Lopez admitted to spending £700 a week on this off-the-wall treatment. Invented by Russian scientists the facials involve the application of a cream containing human afterbirth. Placenta, which is known for its high concentration of protein, vitamins and minerals, also contains amino acid glycine, which is believed to give the complexion a youthful, healthy glow.

Nightingale excrement, collected from the Japanese island of Kyushu, is the secret ingredient of this decidedly dodgy sounding cult treatment. The facial was developed by New York facialist, Shizuka Bernstein. She explained: "The nightingale poo acts as an exfoliate that brings out the dirt and dust that builds up in the skin and leaves the customer feeling refreshed." But what made somebody decide a nightingale's poo would contain anti-ageing properties in the first place?

Leeches have been used as a treatment to cure all manor of ills since ancient Egyptian times. But while you're unlikely to be prescribed leeches by your GP, it would seem the clingy creatures have made a comeback in the form of a 'blood detoxifying' treatment Demi Moore, who paid for an entirely new body in her bid to remain ageless, told talk show David Letterman she had received the purifying treatment while on a trip to Austria.

Bee-venom facials are a favourite with youth-seeking celebrities including Victoria Beckham and Kylie. Beautician to the stars, Deborah Mitchell, has been treating Camilla Parker-Bowles with her £165 bee sting facial for six years - and sources say she passed on her beauty secret to Kate Middleton. For those who can't afford the A-List treatment, Holland & Barrett now stocks the Manuka Doctor skincare range, which contains more than 10,000 bee stings per pot.