Driver, Callum Jackson, Injured After Concrete Block Is Hurled At Windscreen On A442 In Telford (PICTURES)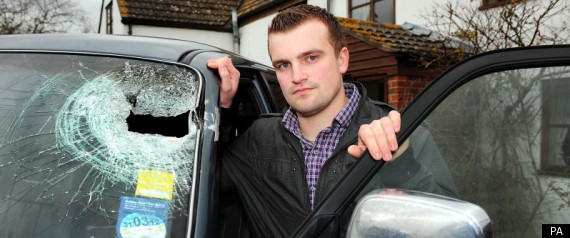 A motorist has been injured after a concrete block was dropped on to his car from a bridge.
The 23-year-old man was driving along the A442 in Telford, Shropshire, when the block smashed through his windscreen, brushed past him and landed on the rear seat of his car as he travelled under the Stafford Road bridge.
He suffered bruising to his ribs and was left shaken by the incident, police said.
The driver was able to maintain control of the car and pulled over on to the hard shoulder where he contacted the police.
West Mercia Police are now appealing for witnesses to the incident, which happened at around 10pm last night, to contact them.
They are keen to speak to a lorry driver who was on the road at the same time who may have witnessed the incident.
Officers are also examining CCTV footage to identify any possible suspects.
Chief Inspector Keith Gee, from West Mercia Police, said: "Throwing anything, especially concrete blocks, at passing vehicles is an extremely dangerous practice and could result in a serious road traffic collision and of course death.
"The driver on this occasion was extremely lucky he was not injured more severely and that he was able to keep control of his vehicle. It was also extremely lucky that there were no passengers in the car."
The incident comes after blocks were thrown on to two separate cars on a stretch of road in Essex in December last year.
Police are still investigating the incidents, which happened on the A12.
Carol Manley, 57, suffered severe facial and chest injuries when a bucket-sized piece of concrete was dropped on to her vehicle as she drove along the road with her husband, Steve.
The pair were hit just 40 minutes after mother-of-two Lisa Horne, 26, escaped unharmed when a rock the size of a football smashed on to her windscreen.
The incidents happened at West Hanningfield Bridge near Galleywood, and Fryerning Lane bridge at Ingatestone.
The motorist, identified by Sky News as Callum Jackson, told the network he was thankful the incident did not end more seriously.
Asked how he felt about it, he said: "I was more angry at the time, but thankful now - you can see it's come in at an angle, couple of inches either way, different story."
He said he knew at once that the rock must have been thrown from the bridge.
"You know straight away that that sort of bang, that sort of impact, is not going to be a stone off the road, it's going to have come from the bridge."