Adele The Comedian? See Her Top 10 Funniest Moments (VIDEOS)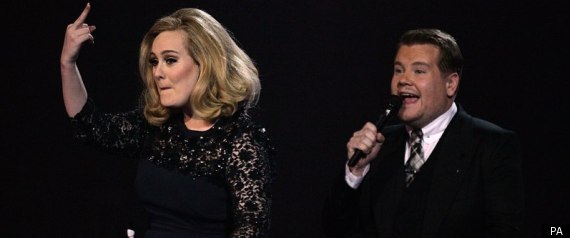 Hell hath no fury like a woman cut-off mid-speech during the Brit Awards. Adele flipped the bird to 'the suits' last night - just a few weeks after telling the star-studded audience at the Grammys that she had snot coming out of her nose. Could we love this woman more? Probably not.
Because Adele Whateverhersurnameis doesn't just possess a stunning singing voice. She also has a wonderfully quick wit, a refreshing penchant for self-effacement, and a delightful line in sarcasm when it comes to her ex-boyfriends. Oh, and a great cackle.
All of which was demonstrated in the between-song banter on her Live At The Royal Albert Hall DVD. But if you're not lucky enough to own that, just take a look at our collection of clips below:
Loading Slideshow
Accepting A Grammy

In which Adele acknowledges her "rubbish relationship" - and draws attention to her snot.

On 'The Jonathan Ross Show'

In which our heroine regales us with a story of a 60-year-old fan at one of her shows, and slags off her ex... again. Hoorah!

Answering Five Questions

In which she prefaces her responses with a message about her new album: "Don't buy it if you don't like it. Don't feel forced to."

On Being Discovered

In which she describes the "pervert" who signed her.

After The Grammys, 2009

In which she explains how "Spanx are a bit annoying after a while".

On 'The Graham Norton Show'

In which she explains why she projectile vomits in people's faces - normally due to the nerves of playing "a small arena".

On Her New-Found Career

In which she talks about the music industry being two-faced. And the Osbournes.

Having 'Happy Birthday' Sung To Her

In which Jools Holland leads his studio audience in a birthday song, and Adele reminds her pianist that it's live.

On A US Daytime Show

In which Adele explains her relationship with her ex-boyfriend. "We're not friends. That's why we're not together any more."

More Funny Moments

In which there are clips from many of the preceding videos - and more.