Adele The Comedian? See Her Top 10 Funniest Moments (VIDEOS)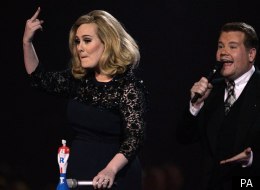 Hell hath no fury like a woman cut-off mid-speech during the Brit Awards. Adele flipped the bird to 'the suits' last night - just a few weeks after telling the star-studded audience at the Grammys that she had snot coming out of her nose. Could we love this woman more? Probably not.
Because Adele Whateverhersurnameis doesn't just possess a stunning singing voice. She also has a wonderfully quick wit, a refreshing penchant for self-effacement, and a delightful line in sarcasm when it comes to her ex-boyfriends. Oh, and a great cackle.
All of which was demonstrated in the between-song banter on her Live At The Royal Albert Hall DVD. But if you're not lucky enough to own that, just take a look at our collection of clips below: