Frank Carson Dead, Comedian Dies Of Cancer Aged 85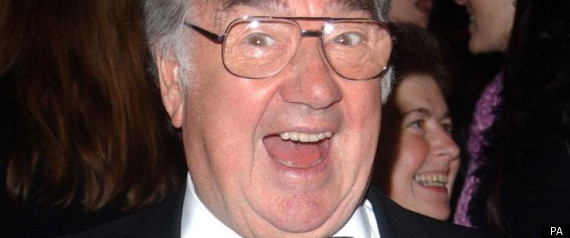 Comedian Frank Carson, best known for his catchphrase "It's a cracker", has "set off for his final gig" after losing his battle with stomach cancer, his family said on Wednesday.
The Belfast-born stand-up, 85, had been in ill health and died at home surrounded by his family in Blackpool, Lancashire.
In a statement, his family said Carson was a "husband, father, Gaga and comedian" who had "set off for his final gig today".
"He went peacefully at his home in Blackpool surrounded by his greatest fans - his extended family. We will be taking him home to Belfast to lay him to rest and celebrate his joyful life.
"It's quieter down here now. God help them up there!"
Carson once joked with the Pope about seeing Elvis when he died. Taking part in around 80 events a year until shortly before he died, his irrepressible and irreverent sense of humour was present to the last.
Journalist and friend Eddie McIlwaine recalled: "He met the present Pope (Benedict XVI) and the Pope said 'did you ever meet Elvis Presley' and Frank said 'no I have not but it won't be long now'."
Carson grew up in the deprived working-class area near York Street in north Belfast known as Little Italy.
Mr McIlwaine said: "A lot of his humour came from his mother. She was the real wit in the family."
He said an inspiration behind Carson's comic career was meeting Laurel and Hardy in a barber's shop in Belfast when he was already performing at pubs and small concert halls. The former tradesman subsequently shot to fame when he won TV talent show Opportunity Knocks.
Mr McIlwaine said: "His big breakthrough came when he was commissioned to take part in the television show the Comedians in the early 1960s.
"That was a big series, Frank was one of the big hits and he became a household name."
His comedy went on to define him. The comic was known for his catchphrases "It's a cracker" and "It's the way I tell 'em" and travelled all over the UK entertaining audiences from his Blackpool base.
Celebrity friends who predeceased him included Eric Morecambe, Bernard Manning, Tommy Cooper, Spike Milligan and Norman Wisdom - part of a dying brand of comedy.
He also worked ceaselessly for charity and was made a Knight of St Gregory by Pope John Paul II in 1987, the highest honour in the Catholic church. Only a couple of months ago he was at the late pontiff's beatification ceremony in Rome wearing his knight's uniform, Mr McIlwaine said.
He dedicated much of his life to looking after his wife Ruth, who had serious eyesight problems, with his sons Tony and Aidan and daughter Majella, despite his own heart problems. They have also put a huge effort into bringing the two sides of the community in Northern Ireland together through education.
The sports fan was a supporter of Blackpool FC. Politically, he backed the UK Independence Party.
But Carson's sense of humour shone through in everything he did.
Mr McIlwaine added: "He was not just a comedian on stage, he was always a funny man and an expert at the one-liner, he was a naturally born comedian."