Rare is it that a 3-2 scoreline should not be deemed entertaining, but international friendlies have delivered joyless affairs for almost two decades now.
They nevertheless provide curious tests for the players who, amidst such nonplussed proceedings, have to look like they care and take advantage of the near-half-a-dozen withdrawals from the squad and impress.
Yet this was hardly an audition. John Terry's trial date saw to that when Fabio Capello pushed/jumped (whichever you choose) to leave England with no coach and no captain. Caretaker coach Stuart Pearce was never in serious consideration, and he admitted just as much at his post-match press conference, when he said: "The full-time manager of England at this moment in time is probably somebody else, not me."
He however reinstated his confidence in leading England to the European Championship in Poland and Ukraine, but is he just one of five things England fans don't want to see again?
Gary Cahill
The Chelsea defender's presence wasn't as surprising as some suggested. He had been a regular at the tail end of Fabio Capello's era and his squad selection ahead of Joleon Lescott and Rio Ferdinand ensured that his "experience" made him a likely starter. But why, oh why? As brilliant as Arjen Robben's opener was, Cahill invited the chance. Chris Smalling was already tracking Klaas Jan Huntelaar's decoy run right before Cahill misguidedly decided to as well, enabling Robben to run on his left side with a clear shot at goal. Then for the second he failed to cut out Dirk Kuyt's cross for Huntelaar to make it a double Dutch lead. His form all season for Bolton Wanderers and the Blues has been shoddy, and it is debatable whether he is the eighth best England centre-back, let alone a first-choice candidate. England need experience in defence, and with John Terry's international future subject to conjecture, Ferdinand and Lescott provide the best pairing. Cahill, meanwhile, should be a certifiable non-traveller to the European Championship. Even his goal was offside. (And Maarten Stekelenberg should have saved it.) Gareth Barry
Unlike Cahill, it is not that Barry had a terrible game or has been in poor form for his club, but it is the fact that he advertises the standards of this England team. His display in Bloemfontein against Germany should have been his international death sentence, but he has had a stay of execution so long that it suggests there's evidence to defend him. Only there isn't. Stuart Pearce said that he didn't call up Ferdinand or Lescott because he knew "what they could do". Well, doesn't the same apply to Barry, as well as others? Scott Parker is designated to do the legwork, so England need an expert ball-player beside him – ideally Gerrard, who has altered his game to that of a regista. Yet he played off of frontman Danny Welbeck in what was an ill-advised tactical move when he rarely plays there nowadays. Michael Carrick, the best English midfielder these last three months, has cause for grievance that he was overlooked for a squad berth.
A gallery from last night's game:
The England Supporters Band
Modern football suffers enough without instruments being allowed through the turnstiles so fans can be punished with some attention-seekers taking a knife to already plasticised atmospheres. This England band has been in existence for over a decade now, and as a lover of punk, Pearce's first task as interim coach should have been to smash up such musical assortments, a la John Belushi in Animal House. Hosting Holland prompted nostalgia for the Euro 96 win when Wembley had an atmosphere and the makeup of the country's football following was fervent and vocal. Now it is musical and moribund.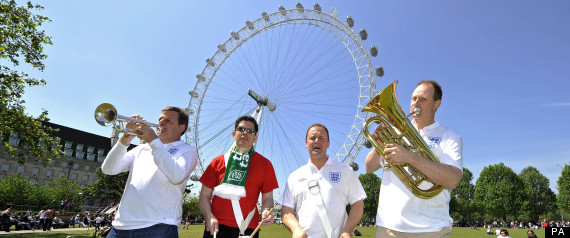 Steven Gerrard as a trequartista
Liverpool's captain withdrew halfway through the first half as a precaution over a hamstring injury, but the diagnosis could easily be disenchantment. Thirty-two this summer, he is not nimble enough to play off the striker after a number of niggles the past two seasons and certainly doesn't relish the role he was handed last night. When he saw he would don the number nine shirt for a pre-2006 World Cup friendly against Hungary with Wayne Rooney rehabilitating, he said that he thought: "Blimey, I don't need that pressure." A deeper role alongside Parker would instead give him the freedom to dictate play and to support in attack, with the knowledge that the safety net is in place. In the role Wesley Sneijder occupies for the Dutch, he looks like a forlorn child who cannot locate his parents.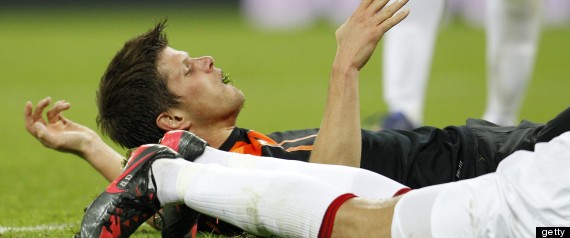 Stuart Pearce
Will those who complained about Capello's English and theorised that he didn't care eviscerate Pearce this morning for his unmoved reaction to Ashley Young's equaliser? It's unlikely. But Pearce was found wanting with a number of baffling decisions, starting with Gerrard in the Rooney role. This was an occasion ideal to start Daniel Sturridge, craving for a central role, off of Welbeck, with Parker and Gerrard's experience backing them up. Instead when Sturridge arrived in place of Gerrard, it was square-pegs-in-round-holes again. Young played off Welbeck, Sturridge went right and Adam Johnson switched to the left flank. Three players out of their preferred positions, when all that was required was a straight swap. Most knew before the defeat that Pearce was the incorrect candidate, and although England enjoyed some serene spells of possession, even "Psycho" was unable to instil the pride and the enjoyment into most of the 17 players who got an outing.
Joey Barton was as outspoken as ever: