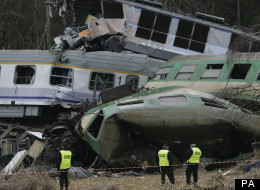 Two trains collided head-on in southern Poland, killing at least 15 people and injuring 54, in one of the worst rail disasters in the country in recent years.
Both trains were travelling on the same track but towards each other and collided head-on last night, Andrzej Pawlowski, a member of the board of the state railway company PKP, said.
He said one of the trains, which was travelling south from Warsaw to Krakow, should not have been on the track. The other train was heading from the eastern city of Przemysl to Warsaw.
Polish TV reported that the injured were taken by helicopter to as far away as Warsaw.
Around 350 people were travelling on the trains when they hit, according to the Telegraph.
The BBC reported that engineering works were taking place on the line before the crash.