Anthony Grant's 'Portraits For A Purpose' Shows Cleese And Co In Whole New Light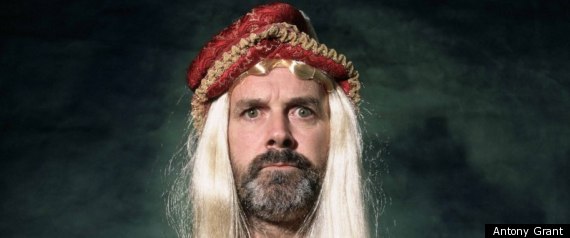 "I want to be fat and unglamorous!" declares Joanna Lumley stuffing tissue into her cheeks.
It's hardly something you hear every day, but it's just one of the endearing anecdotes photographer Anthony Grant shares in Portraits for a Purpose, his exhibition at the National Theatre.
The retrospective, which was first exhibited 25 years ago, includes portraits of a host of national treasures, from Julie Walters to Henry Moore.
Among our favourites are Dudley Moore dressed as an exhausted Queen Victoria and John Cleese as Lady Jane Grey.
The artist was still a student at St Martin's School of Art when his father passed away from cancer. His loss inspired him to use his work to do something positive.
"I wrote letters to a long list of well known people I'd always wanted to meet with the idea of photographing them and using my portraits to raise funds for the Royal Marsden Hospital. The response was completely overwhelming,"
The artist was soon photographing famous faces from the small bedroom at his mother's house, as he didn't have a studio.
Visitors will be able to make donations to the hospital at the exhibition and several of the portraits will go on sale. The exhibition runs until 29 March.