Heard The One About The Comedian Who's Going Back To Stand-Up After 20 Years?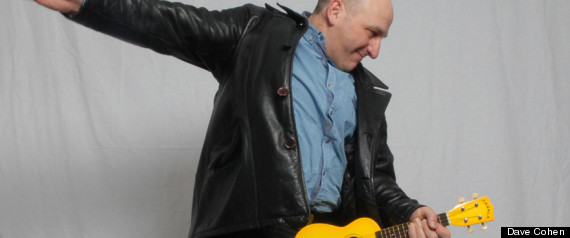 As a reader of The Huffington Post UK, and thus a person of exquisite taste, you may already be familiar with the name Dave Cohen. The comedian, writer, tweeter and Horrible Histories songsmith can often be found blogging - usually about politics - on our very own virtual pages.
But now, after years of writing (as well as Horrible Histories, his credits include Have I Got News For You and his own topical web series Britain's Got People), 53-year-old Cohen is returning to his roots and going back to stand-up for the first time in 20 years.
His show, Songs In A Flat, opens in London this week - but first, he sat down with us (well, we both sat down at separate computers) and told The Huffington Post UK about his decision to tread the boards again.
"Despite the fact that I'm wiser, balder and calmer than 20 years ago, there's still a needy pathetic part of me that craves the love of a roomful of strangers," says Cohen. "I always performed songs with my stand-up, and in the last few years I've been very lucky to write songs for a living. The dormant songwriter-performer gene has been awakened and now I've got a load of new songs and a roomful of strangers to sing them to."
In the '80s, Cohen was part of the burgeoning Comedy Store crowd of comedians, whose ranks included Paul Merton, Mike Myers and Mark Thomas. But don't go expecting the same sort of material he was performing back then.
"Twenty years ago, I was overweight, single and desperate to find a girlfriend. Plus, I'd been performing for 10 years and was getting a bit fed up with it," he says. "Then a couple of years ago I performed a one-man poem about my involvement in the setting up of the WOMAD festival (My Life As A Footnote) which was actually completely different to anything I'd ever done before. So, as Mike Yarwood used to say: 'And now this is me'. (Readers under 40: Google 'Mike Yarwood')."
The '80s were also, of course, the halcyon days of 'alternative comedy' - and Cohen says that he sees a similar wave in live comedy now. "Comedians are much more professional, much earlier in their careers now, and for a while that led to a blandness to much of what was out there," he says. "But I get a sense that a whole new alternative culture is emerging, as it did last time there was a recession of this magnitude, and the comedy scene is a part of that."
And there are other plus-sides to getting back on stage. "It's been lovely meeting all the stand-ups who started out after I quit," he says. "People think of comics as a surly, miserable, bitter and twisted bunch. And they're right. It's great to be back among friends." What's more, Cohen is a fan of the smoking ban. "I gave up cigarettes while I was a stand-up, but inhaling the fumes on stage at a gig always felt like the equivalent of smoking 20 fags a day."
Dave Cohen's show runs 8-25 March at London's Etcetera Theatre. The man may be "older, thinner and deafer" than he used to be, but he's still Jewish, "which is quite handy for comedy purposes" - so what are you waiting for? Another 20 years to pass?!