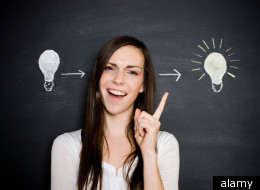 When it comes to getting your creative juices flowing, inspiration is key. So what when you're feeling decidedly uninspired?
From a best-selling novelist to Lady Gaga's costume designer, we asked the professionals who need to be creative on demand to find out how they get inspired when their ideas well has run dry.
Nick Williams, founder of The Inspired Entrepreneur, where he travels the world, alongside other 'inspiration entrepreneurs' giving inspirational speeches to others seeking inspirational advice.
Nick suggests the following tips on how and where to seek inspiration:
Get to know your own personal wells of inspiration - the music, literature, people and places that uplift your heart and soul and generate your best ideas and thinking.
Spend time at those wells - you need to invest time, energy and sometimes money in inspiration and filling up your wells and keeping your soul aloft.
Recognise resistance - the things that truly inspire you often generate fear too so have the courage to move forward with the things that also hold the most fear. The greater the fear then usually the greater the creative energy and passion.
Show up and keep taking baby steps - sometimes the smallest of actions gets us going and opens new doors of possibility.
Act with less attachment to outcome - the more we are attached to particular outcomes the more we are likely to hold back or edit ourselves so free yourself just to do it anyway.
Top creatives reveal how they get inspired...
"My inspiration for imagery started from a very young age going to a place with such forboding and perspective that it was permanently printed on my brain. I have been back to photograph these arches many times in Folkestone where I grew up. "From there I became inspired by many wonderful photographers including Helmut Newton, Guy Bourdin (who I met while assisting the late and great Terence Donovan), Diane Arbus, Yousuf Karsh, Anton Corbijn, Ellen Von Unwerth and many more. "Certain actresses (such as Katherine Hepburn, Raquel Welch, Brigitte Bardot, Catherine Deneuve from yesteryear and nowadays the likes of Angelina Jolie and Charlize Theron) influenced how I view women and always felt very strongly that a sexy woman should be seen to be sexy and confident and not depicted in a sexist way as a victim of the photographers ego. "I loved the actresses that had a 'look but don't touch' attitude and beauty and confidence was always more inspiring than just sexiness. If a woman had it all I would be transfixed. "I am inspired by so many things nowadays that it is difficult to pin down - hence the variety of my work - but ultimately I'm inspired by passion and beauty and aesthetics in all it's forms." Stephen Perry, exhibitor at ObessionArt 12th - 17th March at The Gallery, Mayfair. Stephen Perry photography

"Being a designer, I am constantly looking at things and scrutinising them. I am super critical of my own work and will change it, and change it again until it feels right.. "It sounds obvious to say that I am inspired by nature, but I am. Particularly by flowers, landscapes, weather, animals and architecture, and particularly of lighting. "I love designing objects of beauty, with form, colour, texture and sparkle. I am endlessly inspired by people. In contrast, I also love designing characters of all kinds. I adore true English eccentricity, but it has to be real, not over the top. "I was in my element a few years ago when I was asked to design the costumes for Wind in the Willows for the BBC with Matt Lucas as Toad and Bob Hoskins as Badger. "Both had wonderful character animal body shapes. My love of animals inspired me, and I was also able to use colour, texture and proportions to achieve a 'Period animal' feel to their costumes, with a good pinch of humour, and lots of affection, I think I may have thought of them as my pets!" Vin Burnham, costume designer and founder of The Little Costume Shop

"Bulldog (Simon's skincare range for men) is all about creating amazing naturally formulated products for men. We're constantly looking for new ideas or new natural ingredients. Creating these products has been an amazing journey and I'm incredibly proud of the range. "I find people fascinating and we have a great team at Bulldog who help create a very stimulating environment in our office. I love asking questions, meeting new people and am always looking to learn new things. "London is an amazing city. I lived overseas for many years in New Zealand and the USA, and returning to London after many years away has been one of the joys of starting Bulldog. "You will not find a better collection of museums or galleries anywhere else in the world than in London. My favourites are the Tate Modern, the British Museum and the V&A. "I don't think you can be anything but inspired by both the architecture and contents of these wonderful places. I'm also currently working my way through the British Museum's "History of the World in 100 Objects" which accompanies me on my walk into work every morning. "Currently I'm also really fascinated by William Morris and you can see a good collection of his work at the V&A. I love how connected he was with nature and just adore how this is expressed through his work. He presents his love for nature in an intriguing way. He comes from a really interesting period in Britain's history and I think many of his ideas still resonate today." Simon Duffy, co-founder of Bulldog Natural Skincare, the first men's organic cosmetics.

"I'm a bit of a culture vulture so I'm inspired by a bit of everything. literally. Sometimes it can be inspiration overload. "Generally speaking, music, fashion, art and architecture always spur my imagination. When I'm designing a new collection, I always take a look at the latest collections of my favourite fashion designers to see what what's trending. The only difference is that I'm designing fashion for the bed. "A well-dressed woman should have a well-dressed bed. Some of my recent inspirations have been medieval tapestries, 60's holiday resorts in Acapulco and Positano, the colour coral, Friesian horses, the recent Alexander McQueen exhibit at the Met, and "Born This Way" by Lady Gaga." 
 Ron Norsworthy, interior designer at QVC.

"First and foremost the seasons inspire me the most. Whatever is growing and in the markets inspires me throughout the year as a cook. As I'm based at the farm at the cookery school we see the way the produce changes from week to week and that is what inspires me the most. "Travel is to me one of the most important sources of inspiration. Wherever I go I'm interested in the food I eat, be it in restaurants or in people's homes. That could mean tasting the latest trends or old traditional recipes. Not just food, I also love to see the style and designs of different cultures and countries. "Finally I find myself inspired by seeing (and tasting) what other people are doing. I'm always interested to see what others are cooking. Whether that's eating out, reading books or actually working with other cooks." Rachel Allen, chef, Rachel Allen cookery. Rachel Allen has teamed up with Kerrygold to produce The Kerrygold Community Recip-e-book, available now for free download. Visit here for more details. Visit here for more details

"I started Mungo & Maud in 2005 with my husband Michael Sacher after failing to find tasteful dog products for our English Setter 'George', so you could say he was the inspiration for the entire company. "He still is...I bring him to work every day and all our new products are tested on him. As well as George, I try to take inspiration from everything around me, whether that's nature, fashion, fabrics when travelling, the ballet or an artist such as Louise Bourgeois. If all else fails, a long walk with George always leaves me buzzing with new ideas." Nicola Sacher, creative director and co-founder of Mungo & Maud.

"As a thriller writer, I get inspired by scary and bizarre news stories: scientists developing a new strain of a deadly virus, a man secretly stalking his girlfriend on Facebook, Satanic cults operating in a Welsh cul-de-sac. "The more unusual the story, the more it fires the imagination, makes me wonder about the characters involved, what would happen if..? "Sometimes news stories are far too crazy to use in fiction because readers would complain it was too far-fetched. But the real world is a strange, scary and funny place, and a bottomless well of ideas. "I am inspired by creative collaboration too. I co-write my books with Louise Voss, and having someone to brainstorm with, exchanging ideas, discussing characters and plot twists, is a fun and fruitful way to work. "Writers are usually seen as solitary creatures, wrestling with their muse in a dingy room. But I find the best ideas come when I'm talking and sharing." Mark Edwards, co-author of Catch Your Death. Mark Edwards' books.

"Being a wife and mother is a big part of my life but also not all of my life, they are an extension of me so I am always keen to have my children look to me as a hard working individual. "I think if you teach children that if you work hard you get results, that is a great way to live you life. I was inspired growing up by my own parents who were real workers. "Having two retail spaces, Sloane Square and in Harrods, I am often inspired daily by the other beautiful shops around me. I love living in central London and am constantly on the look out for new trends and ways to merchandise. "I am inspired clothing wise by a mixture of things too - anything from what an artist is wearing on a TV music channel to seeing someone walking down the road wearing something really unusual and bright. "I am inspired too by my friends, I have some girl friends who have done great things either for other people or for themselves and I like being surrounded by creative, fun people who make me laugh." Emily Evans, owner of the 9 London maternity boutique to the stars.

'The thing that really makes me tick is not what is trending right now, but what is going to be trending next. I pride myself on producing the next 'Big' thing to hit the market, and I really do believe it is this frame of mind that sets us ahead of the competition. A huge inspiration to me is the work at Apple Inc. as I believe that the uniquity and branding they have created sells their products. "The work at McLaren is also something that has inspired me and is something that I want our team to work towards. Their headquarters are white and look immaculate, giving a fantastic impression of quality. "Overall I think that keeping one step ahead in producing unique and quality products is what inspires me every day.'' Gary Martin, entrepreneur and founder of Table Art.

"I'm really inspired by nostalgic children's things from the past, old story books, toys, pictures or fabrics. "There are some fantastic antique markets around Cheshire where we live that are great for finding pieces that influence the colours and designs we use for our products. "I'm also lucky enough to work from an office at home in the countryside and we have a veritable menagerie of animals that have already inspired a number of our pieces. Our dog lamp design is based on one of our three rescue dogs and I've loved white rabbits since I bred them as a child." Charlotte Thompson, co-founder of White Rabbit England children's toys and accessories company.

"When I'm working with my team of A Suit That Fits Style Advisors in London and across the UK we are the go-to source of inspiration and guidance for our customers when they're designing their new suits. "Based on the sound knowledge of tailoring I already have, I find inspiration everywhere on a day-to-day basis - from the daily menswear blogs I read on my morning commute and lunch break to the films I watch - from Don Draper in Mad Men to Daniel Craig as James Bond. "I always keep an eye out for the latest tailoring trends to build on my comprehensive knowledge of classic tailoring." Peter Beeney, style advisor at A Suit That Fits.

"For colour inspiration I attend key international trade shows like Maison d'Objet as well any design events in the UK like 100% Design and Tent London. "I also think fashion is a core influence so I tend to keep up to speed with what's happening in this arena as well as often visiting interesting art exhibitions in and around London. "Sometimes you can even gather some of the most unique ideas from the natural environment, particularly when it comes to colour combinations - after all, Mother Nature knows best!" Rebecca Thompson, colour and design manager at Dulux.

"I travel to as many places as I can looking for antiques. Looking on a computer screen doesn't do it for me. Its only by seeing pieces in different contexts that I can be inspired not only by the item but by its location and juxtaposition with other items. "It's a fine line because it's easy to get carried away when you are somewhere exotic. A bit like coming back from holiday with some bright clothing that looked great there, but rather silly back home. "Yet it is the cherry picking and allowing yourself to be inspired by what you see around you that allows us to add to the mix. Rather than looking for trends I look for what I like at that point in time and hope that this similarly inspires our customers." Marc Weaver, antiques dealer for Guinevere Antiques, London.