David Walliams Kept African Orphan In Mind During Swim Challenge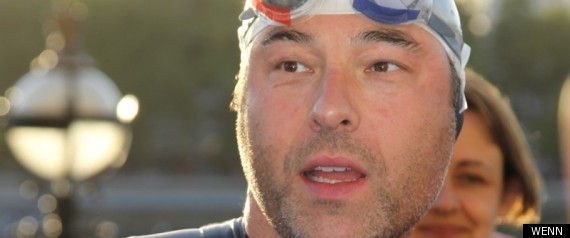 Poor David Walliams suffered a back injury and a stomach bug as he swam the River Thames for Sport Relief last year, but he insists all the pain was worth it to help an orphan he met on a heartbreaking trip to Africa.
The Little Britain star donned his wetsuit to swim 140 miles from Lechlade-on-Thames to London to raise £1 million and he kept one thought in his mind as he faced trying conditions.
He told The Sun: "Days two and three were probably the hardest. Heavy rainfall caused hundreds of tons of raw sewage to spew into the Thames and the bacteria I swallowed made me sick as a dog...
"I couldn't keep any food down, so I was swimming on empty and the diarrhoea meant I was at serious risk of dehydration. I felt desperate and alone. I was giving it my all but it just wasn't enough.
"At that point just one thing forced me to put one arm over the other and carry on - the memory of a young boy called Philip. It was only a few months prior to the swim that I went to Kenya with Sport Relief to see how the cash I was helping to raise could change lives.
"It was there that I met 12-year-old Philip, a destitute child who had been struggling to survive on the streets for the past four years, since both his parents died. Despite being saddened by the dire circumstances in which I met him, I was so relieved to see Philip getting vital help and support from a Sport Relief-funded project called Hope for Victoria's Children (HOVIC).
"It may not sound like much, but he was getting fed, clothed and the crucial chance to go to school. It meant he finally had a future worth looking forward to. So thinking about Philip, and the difference the money I was raising would make to people's lives, motivated me to keep on moving."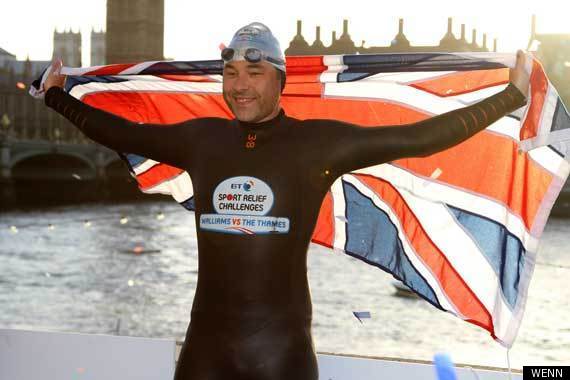 The 40 year old also admits seeing his supermodel wife Lara Stone and his celebrity pals along the route helped him battle through the swim, as did the support of the public.
"The best thing of all, and what made the whole eight days so memorable, was the way in which the public came out to support me. At times it felt like one big amphibian royal wedding with all the Union Flags being waved around me. The chants and cheers rang in my ears as I swam and carried me, well, like a wave."
David confesses he almost cried when he reached the end and he can relive his adventure again on Thursday when the BBC airs David Walliams' Big Swim, a documentary about his endurance test.
> ENTER OUR COMPETITION TO WIN A GHOST HUNTING EXPERIENCE
CELEBS DO SPORT RELIEF

Loading Slideshow
Celebs Do Sport Relief

Amy Childs (Pic: Sport Relief)

Celebs Do Sport Relief

Kirk Norcross (Pic: Sport Relief)

Celebs Do Sport Relief

Jedward (Pic: Sport Relief)

Celebs Do Sport Relief

Stacey Solomon (Pic: Sport Relief)

Celebs Do Sport Relief

Olly Murs (Pic: Sport Relief)

Celebs Do Sport Relief

Gemma Atkinson (Pic: Sport Relief)

Celebs Do Sport Relief

Zoe Salmon (Pic: Sport Relief)

Celebs Do Sport Relief

Amy Childs (Pic: Sport Relief)