'Adele' Joins 'Stephen Fry' And 'George Clooney' At Fantasy Dinner Party In Alison Jackson's Latest Photo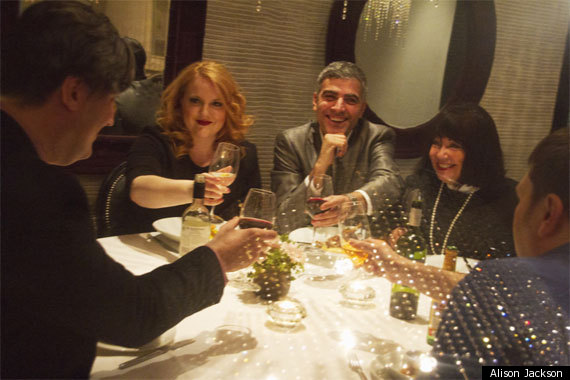 We've all thought about who we'd want sat around our dining table at our fantasy dinner party.
And while we would love to glug wine with Denise Welch and chow down on some battered chicken with Frankie Cocozza (that's a lie), the nation's favourite party guests have been revealed.
And to celebrate it, the woman behind the pictures that saw both 'Katie Price' and 'Peter Andre' and 'Cheryl' and 'Ashley Cole' reunited, has brought a bunch of look-a-likes together to show us what it would look like.
But perhaps the rent-a-celeb shop was running low on decent stock for photographer Alison Jackson this time.
While Stephen Fry - who topped the poll - and George Clooney looked pretty convincing, clearly none-one saw the memo saying Dawn French looks pretty different these days.
And instead of sending along an Adele, they seem to have sent an Alison Moyet instead.
Rounding off the guests at the table (and the owner of the mystery ear in the right hand corner) is Peter Kay, in case you were wondering.
But despite our cynicism, it's all for a really great cause, as Alison is supporting Smooth Radio's Starlight Supper in aid of Macmillan Cancer Support, which takes place tomorrow night.
Visit www.smoothradio.co.uk on details on how you can join in.
> ENTER OUR COMPETITION TO WIN A GHOST HUNTING EXPERIENCE
CELEB PICS OF THE DAY

Also on HuffPost: